Mario Kart 8 Deluxe is getting a massive round of downloadable content, set to add 48 more courses to the game by the end of 2023.
The news was announced via today's Nintendo Direct, which revealed the upcoming "Booster Course Pass."
The DLC will be released in six waves over the course of 2022 and 2023, with returning tracks coming from past Mario Kart games like Super Mario Kart, Mario Kart 64, Mario Kart: Super Circuit, Mario Kart: Double-Dash!!, Mario Kart DS, Mario Kart 7, and Mario Kart Tour.
Wave 1 will be released on March 18th, 2022, and will include two new cups: the Golden Dash Cup and the Lucky Cat Cup.
The Golden Dash Cup will include Paris Promenade from Mario Kart Tour, Toad Circuit from Mario Kart 7, Choco Mountain from Mario Kart 64, and Coconut Mall from Mario Kart Wii.
Meanwhile, the Lucky Cat Cup will include Tokyo Blur from Mario Kart Tour, Shroom Ridge from Mario Kart DS, Sky Garden from Mario Kart: Super Circuit, and Ninja Hideaway from Mario Kart Tour.
Future cups included with the pass have icons based on Super Mario Bros. 2 turnips, the Propeller Mushroom, the Rock Mushroom from Super Mario Galaxy 2, a Power Moon from Super Mario Odyssey, a Berry (Yoshi's favorite food!), a Boomerang Flower, a Cape Feather, a Double Cherry, a Super Acorn, and a Blue Shell.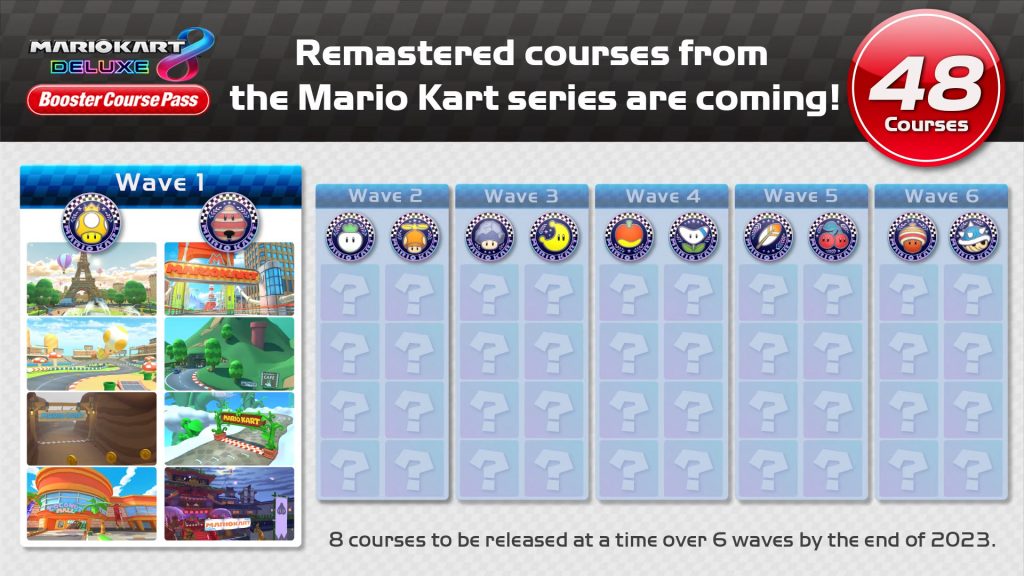 Eight courses will be released at a time over six different waves by the end of 2023.
When the Booster Course Pass is finished, it will have doubled the current number of courses in Mario Kart 8 Deluxe from 48 to 96 tracks.
Those interested can pre-order the Booster Course Pass for $24.99 beginning today; however, owners of the Nintendo Switch Online Expansion Pass will receive the DLC at no cost.
Leave a Comment