After a busy December, Super Rare Games is now ready to kick off 2022 with a new, 4,000 limited physical copy run of another Nintendo Switch game. Earning the 62nd spot in SRG's collection of physical Switch games is Paper Cult's Bloodroots.
In Bloodroots, the world is your weapon – improvise and adapt in a bloody revenge quest across the sprawling Weird West.

Betrayed and left for dead, Mr. Wolf is hell-bent on finding his killer and enacting revenge – alone, and vastly outnumbered.

Thankfully for Mr. Wolf, the world is your weapon in Bloodroots – a relentless action game that unfolds across the sprawling Weird West. You'll choreograph spectacular, ultra-violent combos by making use of everything around you, from hatchets, to ladders, to…carrots? It's improvise or die, as Mr. Wolf fights his way to the center of the mystery: why was he betrayed?

A world overflowing with makeshift weapons that not only change the way you fight, but how you get around
Improvise the most deadly combos and compete for fame on worldwide leaderboards
Fight your way through a variety of handcrafted levels, from frozen forests to towering mountaintops
Experience a twisted Western revenge tale with a deranged cast of characters
Debuting on the Nintendo eShop in February 2020, it'll enter the physical realm briefly. Available to purchase on Thursday, January 13th at 10 a.m. PT | 1 p.m. ET, collectors and hack and slash game fans can order a copy of Bloodroots which will contain the following: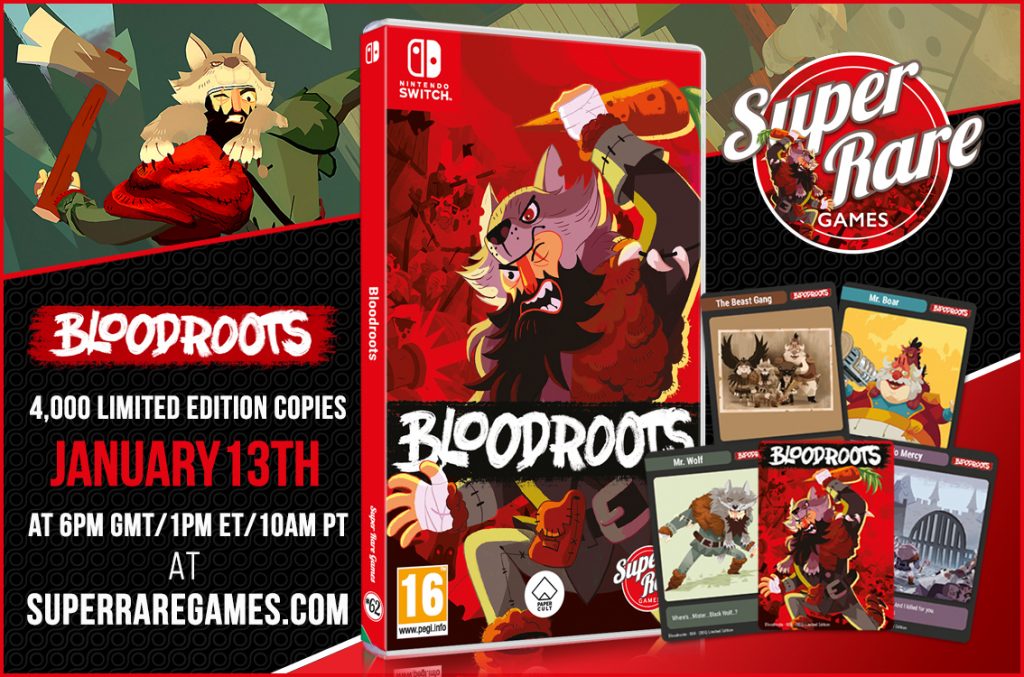 Physical version of the game on a Nintendo Switch cartridge
Case featuring interior art
Full-color manual (featuring the game's artwork and concept art)
Exclusive sticker
A 3 card pack of trading cards (five cards in total to collect)
Each copy of Bloodroots costs $39.31 and customers can only order up to two copies. Additional trading card packs will be available for purchase for those who hope to collect the full 5-card set plus the shiny variant. Customers can buy up to five packs per person and each pack costs $3.39. SRG plans to ship orders out in mid-January.
Once all 4,000 copies are sold, that's it. Bloodroots will still be available digitally on the Nintendo eShop, but for physical game collectors, you'll want to make sure to get your pre-order when sales go live for Bloodroots on Thursday, January 13th at 10 a.m. PT | 1 p.m. ET only at Super Rare Games.
Leave a Comment