With Bayonetta 3 taking years of development time before only recently locking its sights on a 2022 release date, it seems fans of the hair-flaunting heroine are used to waiting. Fittingly, it was almost a year and a half ago since First 4 Figures' beautiful Scarborough Fair gun replicas were first revealed, but the intricately detailed Umbra Witch weapons are now finally available to pre-order.
The guns come in the Thyme, Parsley, Sage, and Rosemary variants from the Bayonetta games. Each of the four replicas can be purchased individually or as a set, with Standard Editions and Exclusive Editions available. For a limited time, customers can take advantage of an "Early Bird" offer by placing pre-orders before December 17th, 2021, at 4:00 p.m. HKT. You can find all of the buying options over on the First 4 Figures website.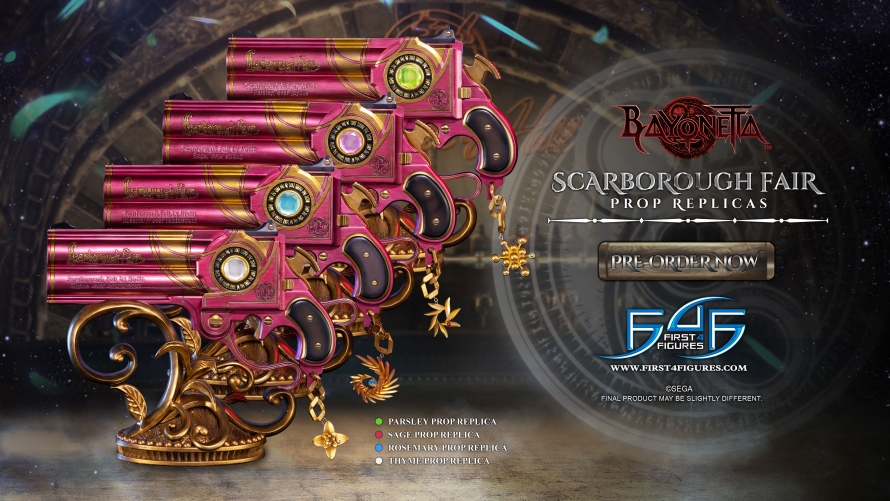 Each replica includes a detailed base inspired by the series' art iconic style. Each Exclusive Edition features two LED functions for the colored jewels on the gun (not included in the Standard Editions), which can be activated by pulling the trigger. One pull will activate a static LED mode, while holding down the trigger causes the lights to "rapidly flicker to emulate gunfire."
The Scarborough Fair replicas currently have an estimated release window of "Q3 2022." Let's hope we see Bayonetta 3 arrive on Nintendo Switch by then, too!
Leave a Comment