This week's Super Rare Games release isn't a brand new physical run for a Nintendo Switch game. Instead, SRG is digging into their storeroom and selling a variety of previous releases' customer service copies. If you missed out on a sold out game from SRG and have a thing for mystery boxes, then Super Rare Games' Mystery Box is right up your alley.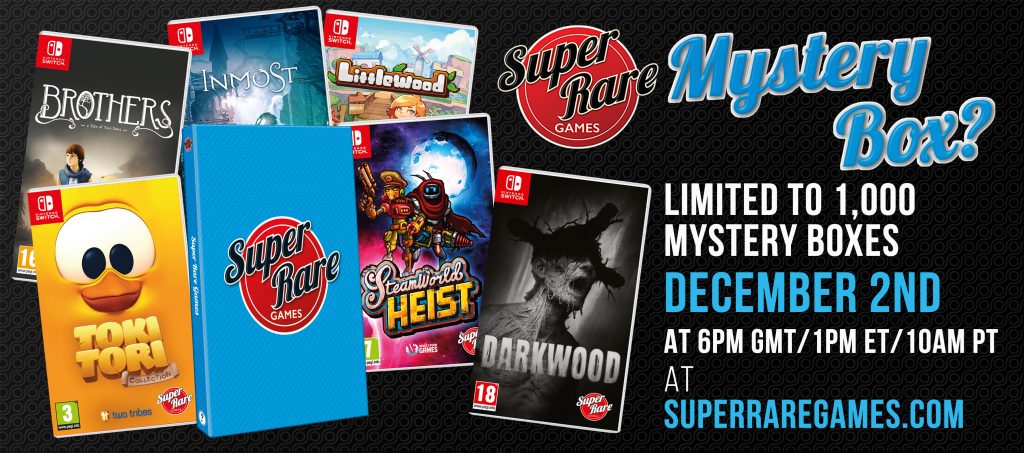 Available on Thursday, December 2nd at 10 a.m PT | 1 p.m. ET on Super Rare Games' site, 1,000 Mystery Boxes will be available for sale. Each Mystery Box will include one random sold out game from SRG's catalog plus an additional (and random) trading card pack for $46.56. Due to the limited amount, only one Mystery Box can be purchased per person.
As for what games are part of these 1,000 Mystery Boxes, SRG has a list and the chance rate of what could be inside the blue box:
CHANCE RATE (individual game numbers vary):

2021 RARE (45% chance): ITTA, Project Warlock, Lonely Mountains Downhill, Creaks, Brothers A Tale of Two Sons, ABZU, INMOST, Super Crush KO, Littlewood, Roki, Deponia Collection, Metal Unit, Dogworld

2020 RARE (48% chance): Octahedron, World of Goo, Assault Android Cactus+, Mechstermination Force, The Sexy Brutale, Little Inferno, Tricky Towers, Graceful Explosion Machine, SteamWorld Dig, SteamWorld Heist, Old School Musical, Chroma Squad, Dandara, Freedom Finger, Darkwood, Ghost of a Tale

2019/2018 RARE (7% chance): N++, Steredenn, Lone Wolf, Toki Tori Collection, RIVE, Darkside Detective, SteamWorld Quest, The Gardens Between

Please note that these are stockroom leftovers and copies originally aside for customer service as part of the original numbered runs – we never reprint games
In addition to the Mystery Boxes, some previously sold out SteelBook and Collector's Editions will be restocked on SRG's store and will be available while supplies last. Since everything is in stock, SRG is aiming to ship orders out in mid-December and notes that Christmas delivery isn't guaranteed.
Leave a Comment