With Star Wars: Knights of the Old Republic now available on the Nintendo Switch, like the battle between the Jedi Knights and the Sith, it was only a matter of time before Limited Run Games turned up the hyperdrive for some sweet special editions. The latest Aspyr Lucasarts port will be receiving an incredible Premium and Master edition variation tomorrow. Have a look below at both of the upcoming special packages!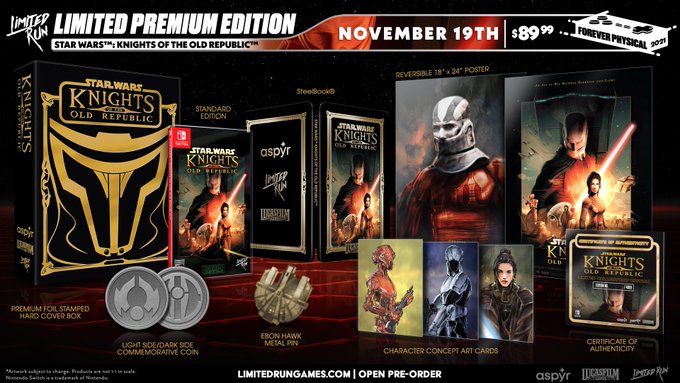 The Premium Edition of Star Wars: Knights of the Old Republic will include a physical copy of the game, steelbook, a foil-stamped hardcover box, commemorative dark and light side coin, Ebon Hawk metal pin, reversible poster, art cards, and a certificate of authenticity. The only difference between the Nintendo Switch and PC versions of the Premium Edition is one item. While the Switch bundle comes with a steelbook, the PC variant includes a functioning Security Spike USB replica.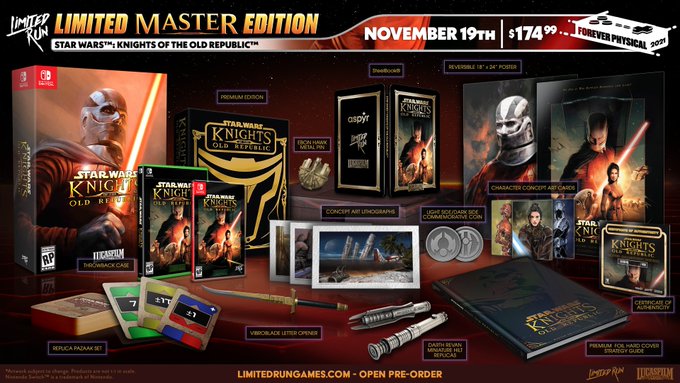 As for the Master Edition of the game, everything from the Premium Edition is included on top of a box featuring Darth Malak, replica Pazaak card set, a throwback PC-stylized cover case, Viroblade letter opener, Darth Raven lightsaber hilt replicas, a hardcover strategy guide, and concept art lithographs.
Pre-orders for the Premium and Master editions of Star Wars: Knights of the Old Republic go live tomorrow, Thursday, November 19th on Limited Run Games' website. The Premium Edition will cost $89.99 while the Master Edition goes for a whopping $174.99. Better gather those galactic credits!
Leave a Comment