Back in 2002, many Nintendo fans were introduced to the Soulcalibur franchise when the second installment of the acclaimed fighting series arrived on the GameCube. It certainly got everyone's attention with The Legend of Zelda's Link featured as a guest fighter, but many stuck around for its addictive gameplay and memorable roster. Ivy Valentine, with her living snake sword, striking purple-and-gold outfits, and her spiteful dialogue, easily remains one of the series' most iconic characters.
It's no surprise, then, that First 4 Figures selected her as the third project in their Soulcalibur II series of statues, following Nightmare and Taki.
As usual, Ivy comes in Standard, Exclusive, and Definitive Editions. The Exclusive Edition gives Ivy an additional extended blade, while the Definitive Edition adds this as well as a special base themed on Ivy's home stage in Soulcalibur II, the Egyptian Crypt (including "elements such as the Eye of Ra, the stone flooring with blue dividers, and the intricate detailing seen above the door arches in the background").
Those who order before December 1st will receive a discount, with prices listed below (including tax and shipping):
Standard:

$647.99 Early Bird, $695.99 RRP

Exclusive:

$671.99 Early Bird, $719.99 RRP

Definitive:

$761.99 Early Bird, $815.99 RRP
The Standard and Exclusive Editions have the following dimensions base included:
Height:

21.2 inches (54cm)

Width:

11.8 inches (30cm)

Depth:

11.8 inches (30cm)

Weight:

4.940KG
Since the Definitive Edition includes a larger base, the dimensions are altered slightly (though the statue itself appears to be the same size):
Height:

22.8 inches (58cm)

Width:

10.2 inches (27.5cm)

Depth:

10.8 inches (27.5cm)

Weight:

5.710KG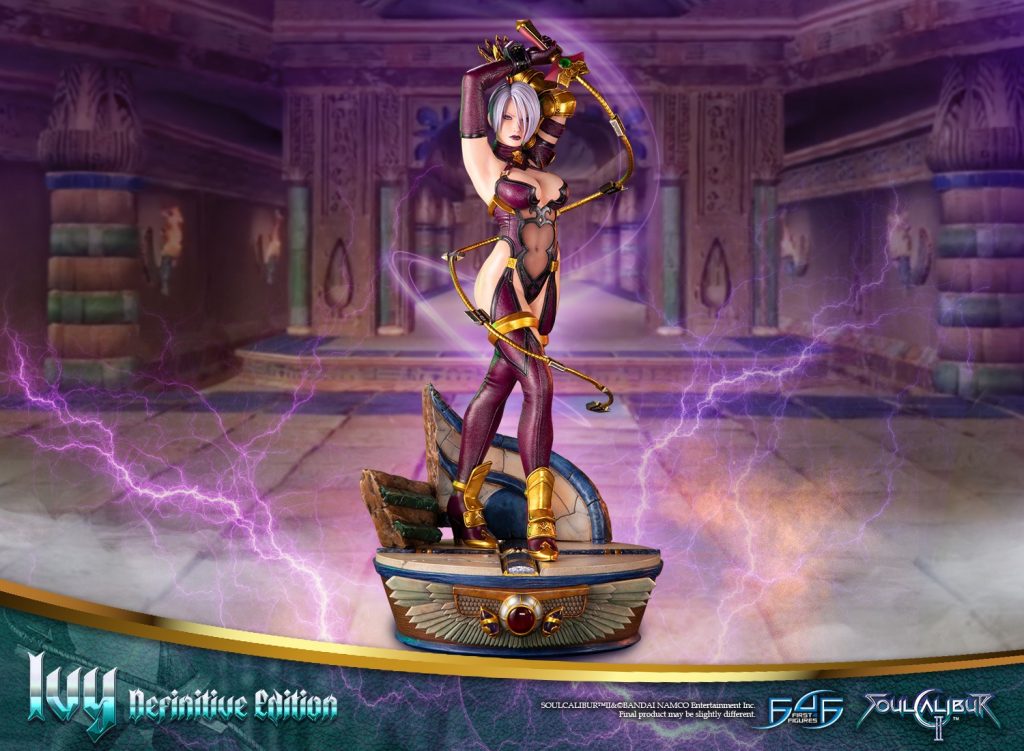 All three variants of the Soulcalibur II Ivy statue will be released in Q2 2022. You can see all aspects of the figure unveiled in great detail in First 4 Figures' launch stream above and in the image gallery below.
Gallery
Leave a Comment