Not even a week after Pokémon Center Japan announced its Christmas 2021 collection (titled Pokémon Christmas in the Sea), Pokémon Center North America is ready to launch its Holiday 2021 collection. The plushies and keychains from Pokémon Christmas in the Sea did make it over (now referred to as Pokémon Undersea Holiday), but that's just the start.
Beginning today on Pokémon Center US and Canada, Trainers can find a variety of apparel and accessories, home décor, kitchenware, the return of the Delibird Holiday Express figures, and more. Plus, the site is also offering a handy Gift Guide if you find yourself stumped in picking out a gift!
Pokémon Undersea Holiday
They're all here! Plushies of Piplup & Mantyke, Pikachu, Glaceon, a wreath featuring Pikachu and Piplup, Galarian Corsola, Spheal, Buizel, and Chinchou have arrived. They range in price from $14.99 | CA$19.99 (keychains) to $27.99 | CA$36.99 (Piplup & Mantyke).
Apparel
Holiday sweaters and one-piece pajamas are back! This year's designs feature Pikachu, Eevee, Snorlax, Stantler, Vanillite, and Snom. The knit holiday sweaters are $44.99 | CA$58.99 each and the one-piece pajamas are $59.99 | CA$77.99 each. If you want a particular design and it has sold out, make sure to check back later for a restock!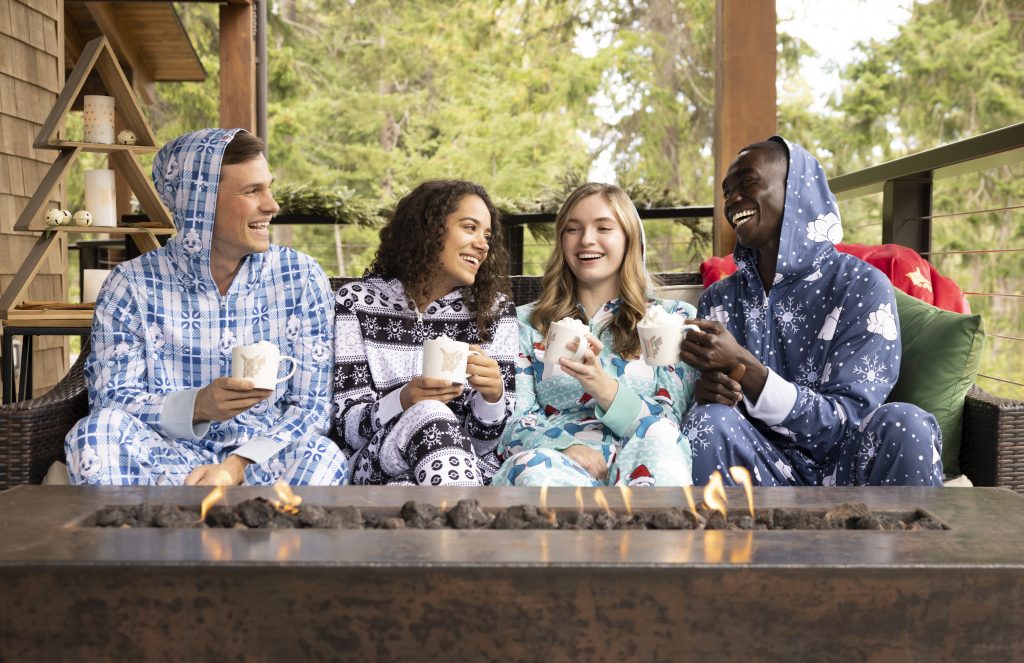 Festive Winter accessories
New knit beanies, scarves, headbands, and gloves featuring Charizard, Pikachu, Galarian Ponyta, and Poké Balls join the Festive Winter collection. Pieces range from $14.99 | CA$19.99 to $19.99 | CA$25.99.
Home Décor
Decorate your abode and your tree with Pokémon! Joining the previous Pokémon Winter Wonders collection are band new ornaments and pillow covers. Plus, there's the new Pokémon Holiday Sculpted Wreath ($79.99 | CA$103.99) that subtly celebrates the franchise's 25th anniversary.
Delibird Holiday Express Figures
Returning once again, Trainers can finish their Delibird Holiday Express figure collection with Snorlax Pass, MooMoo Milk & Cookies, and Ponyta Holiday Rockers figures right now. According to the Pokémon Company, more figures will be available this month: Pikachu Engine, Dragonite Flat Car, Alolan Vulpix Box Car, and Slowpoke Caboose. Each figure is $39.99 | CA$51.99.
And more!
Other accessories, like pins, are also available. Currently, there are two pin sets and both feature Pikachu, Delibird, and Piplup. Each set costs $19.99 | CA$25.99. As for kitchenware goods, they'll be available online later. For now, one new item has appeared and it's a Bamboo Wood Cutting Board featuring Pikachu ($29.99 | CA$38.99). If it looks similar, it's because it's part of last year's Pokémon Winter Wonders collection!
Pokémon Center notes that if you want your orders to arrive in time for Christmas to place your order(s) by December 6th (PO, FPO, APO Boxes & US territories) or December 10th (ground shipping within the US). Given the current shipping demands, Pokémon Center is also stating that these "[d]ates are provided in good faith, but are subject to change due to unforeseen circumstances, such as weather delays, courier issues, or shipper backlog."
Check back throughout the month on Pokémon Center US and Canada as more holiday-themed items will be made available.
Leave a Comment