The café is back open for business! After undergoing maintenance, Nintendo Switch and mobile Pokémon puzzle game Pokémon Café Mix has been transformed into Pokémon Café ReMix. There's more to this free-to-start title than a name change. The gameplay has been tweaked, the Pokémon leveling system received a complete overhaul, new Pokémon have been added to the customer and staff list, and more! Get a bit size taste thanks to the relaunch trailer.
With the relaunch, a series of login bonuses are available. Login daily and soon you can add a set of chef's whites to Eevee's costume options thanks to the ReMix Celebration Stamps. There's also the good ole Daily Stamp Board that currently has a costumed Lucario in charge. To get him, well, that involves a new paid feature added to the game.
Previously offering in-game purchase packs before, Pokémon Café ReMix will also offer a Premium Pass which is tied to Monthly Goals. Divided into two sections – Standard Course and Premium Course – Monthly Goals will tally up stars earned from levels and unlock rewards. Tiered into 30 levels, rewards can be power-ups, Golden acorns, Stamina, and more. Yet, within the Premium Course section, you'll find something else – an exclusive costume. To kick off October and November Monthly Goals, the costume reward at Tier 30 is Lucario's masquerade outfit. To get it, you'll have to pay $8.99 and collect the required amount of stars.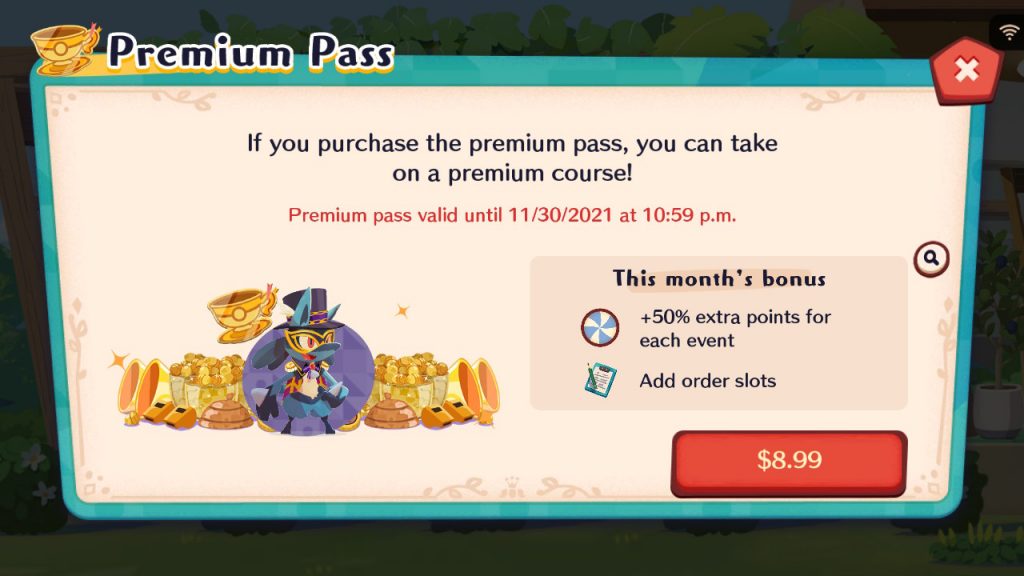 Café owners who played the original Pokémon Café Mix will also find their accounts can be transferred over to Pokémon Café ReMix. Once completing the game's tutorial, any staff members you've recruited will immediately rejoin your café and activate a series of café upgrades.
The revamped Pokémon Café ReMix can be played on Nintendo Switch and mobile devices (via Apple's App Store and Google Play) right now! Bon appétit!
Screenshots
Leave a Comment