Fortnite is a game in which you can fight against John Wick while wielding Thor's Mjölnir as Ariana Grande, so at this point, it may not be too shocking to see another crossover arrive in the immensely popular battle royale game. Fans of Capcom's flagship survival horror franchise may be pleased to know, however, that Resident Evil protagonists Chris Redfield and Jill Valentine are the latest reinforcements in the fight against The Sideways' Cube Monsters.
Jill has her iconic S.T.A.R.S. uniform from her appearance in the original Resident Evil, while Chris is rocking his boulder-punching attire from Resident Evil 5. They also each have an alternative costume, with Jill in her Resident Evil 3 gear and Chris bringing back that stylish jacket from Resident Evil Village.
The S.T.A.R.S. Team Bundle, available in Fortnite's in-game Item Shop, includes these outfits along with new items: the Green Herb Back Bling (which also includes alternative Red and Blue Herb styles) and the Saving Keystrokes Back Bling (based on the series' staple typewriters).
Players can also purchase the S.T.A.R.S. Team Gear Bundle, which features the Hot Dogger Pickaxe (a superheated, anti-bioweapon knife based on an unlockable weapon in the 2020 Resident Evil 3 remake), the Stun Rod Pickaxe (which is based on a recurring weapon in the series), and the Brolly Stroll Emote, a cheeky nod to Resident Evil's antagonistic pharmaceutical company Umbrella, which you can see in action below. The fixed camera angles in the video are also a great touch for fans of the classic games.
Finally, those who purchase that latter bundle will also be treated to a new loading screen, illustrated by Rodrigo Lorenzo.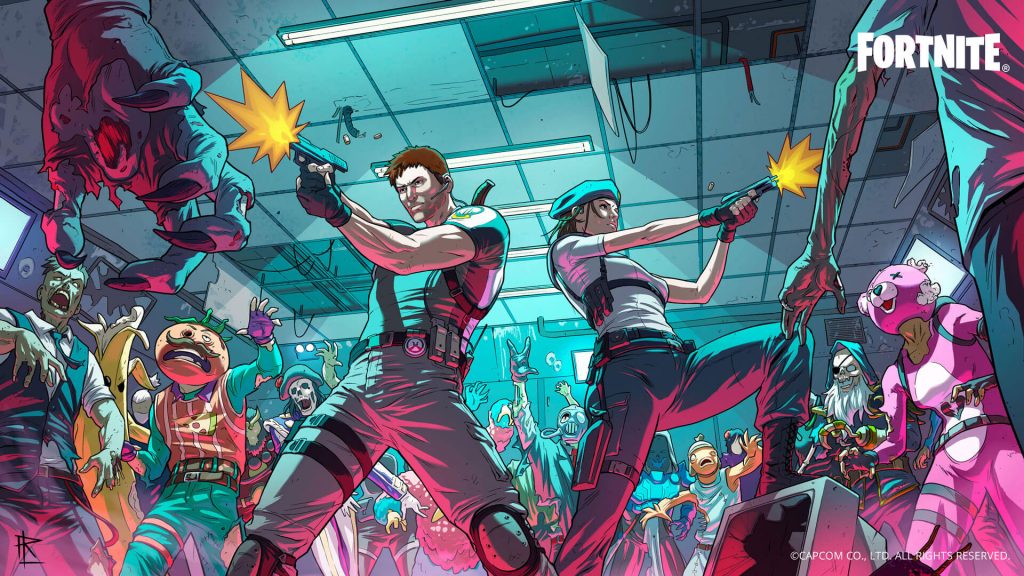 Fortnite recently saw the arrival of the alien-themed Season 7, which introduced characters from Superman and Rick and Morty. The game is free to play and is available now on Nintendo Switch.
Leave a Comment