Over the last few years, The Pokémon Company has been hosting a series of contests where fans could illustrate a Pokémon TCG promo card. All a Trainer had to do was draw, sculpt, craft, etc. an image of a Pokémon listed in the official rules. Limited to Japanese residents, these Pokémon Card Game Illustration Grand Prix competitions would narrow down the thousands of entries to 50 and then to 8 finalists. From there, the illustration that would take the top spot would be turned into an actual Pokémon TCG promo card and be awarded a cash prize. It's been over a year since the results for the last competition were announced, so today The Pokémon Company is ready to shake things up.
Not only are we getting another edition of this competition, but it's being opened to US residents! Dubbed the Pokémon Trading Card Game Illustration Contest 2022 in the US, Trainers from Japan and the US can enter this fan competition. This contest's theme is all about "the daily life of Pokémon." As for which Pokémon will be starring on these potential promo cards, Trainers can choose from the following list: Bulbasaur, Charizard, Pikachu, Arcanine, Galarian Rapidash, Scizor, Greninja, and Cramorant. It's not about drawing them all, so you'll want to pick one Pokémon to be the focus of your illustration. After all, there's only one grand prize with a $5,000 payout!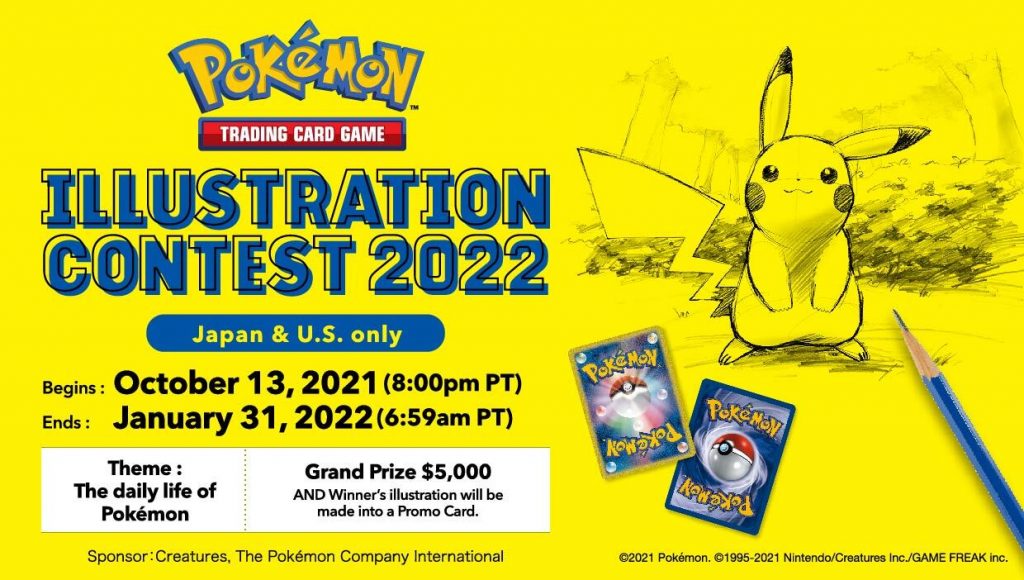 Full details can be found on the official Pokémon Trading Card Game Illustration Contest 2022. The site also includes a Q & A concerning the contest, a list of Pokémon and reference materials, an interview with employees involved in the development of Pokémon TCG cards, and the past contest results for the Japan-only version of the competition. Entries will be accepted from October 13th, 2021 until January 31st, 2022. As for when the winners will be announced, that'll be months later in summer 2022.
Interested in entering? Definitely check out the official contest site and read up on the rules and whatever tips Pokémon TCG staff has to say about making a card!
Leave a Comment