Super Rare Games is ready for another Nintendo Switch physical game release! This time it's a 4-on-1 cart special, as SRG has partnered with Daedalic Entertainment to bring the Deponia series into the physical world. Even better, this print run of Deponia (dubbed the Deponia Collection) will get a standard and collector's edition.
Limited to 4,000 copies (3,000 for the standard and 1,000 for the collector's edition), you can own all four Deponia games plus have some extra goodies. The standard edition comes with three randomly selected trading cards, a logo sticker, and a game manual. As for the Collector's Edition, it contains: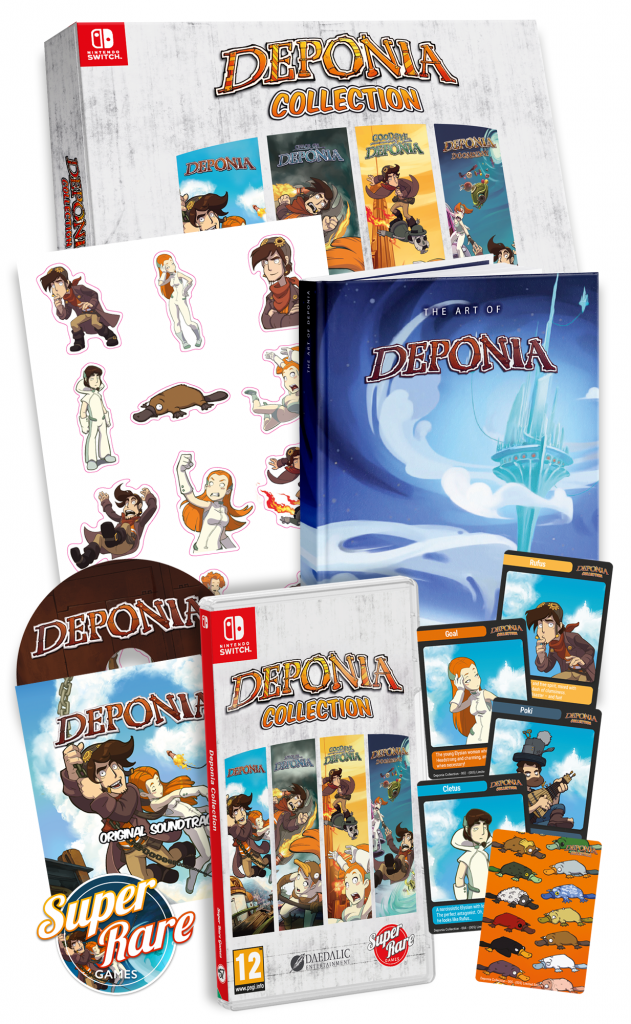 208 page hardcover art book
Soundtrack CD
Full set of trading cards (including a guaranteed holographic)
Sticker sheet
Standard game case with all 4 games on cart
Logo sticker
Collector's box
The standard edition is priced at $74.90 and the Collector's Edition is $130.38. Additional card packs will be available to purchase as well. Interested? Set your alarms for next week, as the Deponia Collection and Deponia Collection: Collector's Edition go on sale at 10 a.m. PT | 1 p.m. ET sharp on Thursday, September 16th, and only at Super Rare Games.
Leave a Comment