Say what you want about the Grand Theft Auto series, but Rockstar Games' action-adventure crime series has become not only a popular video game franchise, but also secured itself a spot in pop culture. Sure, we don't see too many entries of the series on Nintendo's consoles, but we might see some soon in the form of a remastered trilogy. According to Kotaku (and also corroborated by PC Gamer, Gematsu, VGC, and more), soon we'll see the PS2-era Grand Theft Auto III, Grand Theft Auto: Vice City, and Grand Theft Auto: San Andreas be upgraded and released on all current-generation consoles, PC, and mobile. Yes, that includes the Nintendo Switch.
From Kotaku's coverage:
Rockstar is actively developing remastered versions of Grand Theft Auto III, Grand Theft Auto Vice City, and Grand Theft Auto San Andreas. All three of these games are being remastered using Unreal Engine and will be a mix of "new and old graphics." One source who claims to have seen a snippet of the games in action said that the visuals reminded them of a heavily-modded version of a classic GTA title. The UI for the games are being updated too, but will retain the same classic style. No details were shared about gameplay, but Kotaku has been told these remastered titles are trying to stay true to the PS2-era GTA games as much as possible.

Sources confirmed that Rockstar Dundee, a Scottish outpost and one of the newest studios at the company, is leading the charge on developing the remastered games. Another source explained that the studio is heavily involved in not just the remasters, but is even helping Rockstar on developing the next-gen GTA V ports that are due out later this year. This lines up with information [Kotaku] had heard last year, after the studio was purchased by Rockstar Games. Before becoming Rockstar Dundee, the studio was Ruffian games and had previously worked on Crackdown 2, Crackdown 3 and assisted with development on the Master Chief Collection.
The remasters have been in production for some time, and were even planned as a "thank you gift" from Rockstar by being given away for free with the purchase of GTA V and GTA Online's next-gen ports (which are on track for a release on Thursday, November 11th). Plans changed though due to the COVID-19 pandemic which no doubt affected development. According to Kotaku, the remastered trilogy was then to be released separately earlier this year. That plan was scrapped for now a "launch around late October or early November for PS4, PS5, Xbox One, Xbox Series X/S, Switch, PC, Stadia, and mobile phones." Kotaku does note that PC and mobile ports could be delayed to 2022.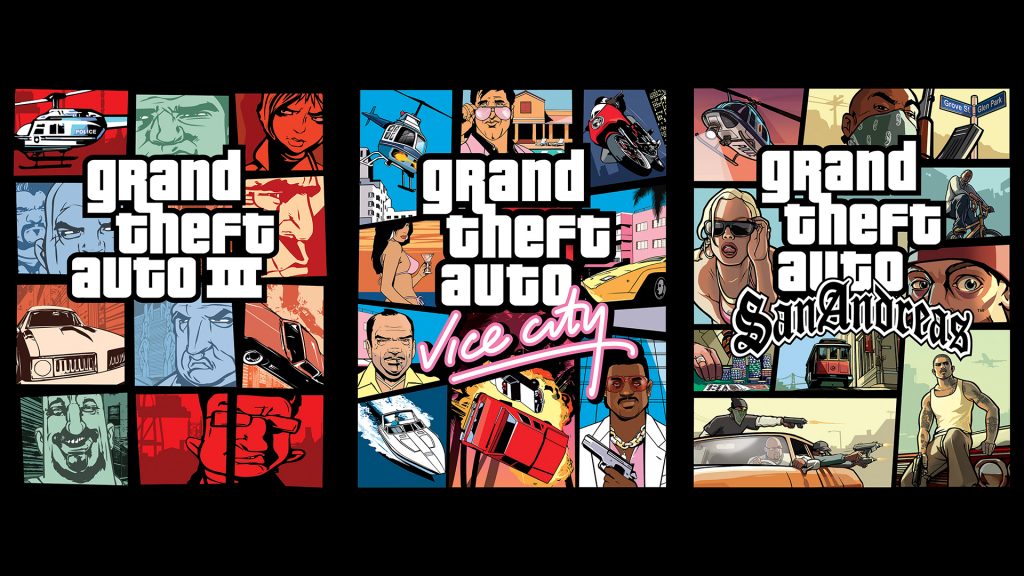 Regardless of when the remasters of Grand Theft Auto III, Grand Theft Auto: Vice City, and Grand Theft Auto: San Andreas are released, they will be sold as a digitally only set. Based on how well GTA trilogy sells, Rockstar may move forward we remastering other games – notably Red Dead Redemption.
Beyond their anonymous sources, Kotaku backs up their reporting with some recent events. PC Gamer published an article on Sunday, August 8th that mentioned that "Take-Two Interactive is working on three unannounced "iterations of previously released titles," the company said recently in an investor presentation." And, as recently as yesterday, Take-Two issued a number of DMCA notices against a number of GTA mods hosted on mod repository LibertyCity that were "ports of the locations, cities, cars, and characters of old Rockstar Games titles on newer Grand Theft Auto engines."
For now, all we can do is wait for an official announcement from Rockstar. It would make sense for the remastered trilogy to be released soon, as this would be one of the best ways to celebrate Grand Theft Auto III's 20th-anniversary. Plus capitalize on bringing any GTA game to a Nintendo console in over 12 years, since Grand Theft Auto: Chinatown Wars for the Nintendo DS.
Leave a Comment