Sega must have a thing for bringing back pairs of characters in games with "Mania" in the title. Sonic Mania made Tails and Knuckles playable in a platformer again for the first time in years, followed by the Mania Plus DLC reviving both Mighty and Ray. Now it seems they're poised to do the same in Super Monkey Ball Banana Mania, branching out even further for a bigger barrel of featured monkeys.

More monkey business… we can confirm Jam and Jet have rolled on over to Super Monkey Ball Banana Mania from Super Monkey Ball 3D! 🙊

It *is* the Super Monkey Ball 20th Anniversary after all! 🍌#SuperMonkeyBall #BananaMania #SMB20th pic.twitter.com/ZPDM2ZQ0du

— Super Monkey Ball (@SuperMonkeyBall) July 31, 2021


Shown here are Jam (with the tank top) and Jet (with the gold fur), both of who were late additions to the Monkey Ball menagerie. Jam made his first appearance in Super Monkey Ball: Step & Roll, being something of a personal trainer for that game's Balance Board based nature. He'd go on to be playable in Super Monkey Ball 3D, which also introduced Jet to the cast as a new rival for AiAi with a penchant for kung fu.
No word was given on if they'd be playable in Banana Mania, but their presence goes a long way in pushing the 20th anniversary nature of the game. The stages may be from a limited pool, but as the earlier reveal of both Doctor and YanYan showed, anything from the series' past is seemingly fair game.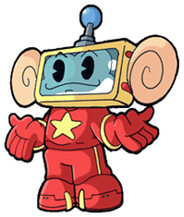 Anything.
Leave a Comment