Minecraft's dungeon-crawling looter spinoff has seen a steady drip of content since its release last May, with the minds at Mojang having added a number of new biomes that ranged from the deepest lava-filled depths to the tallest mountain peaks. Each of these new biomes have been accompanied by the latest calamitous tales surrounding the Arch Illager and the Orb of Dominance – a tale which will come to a climactic conclusion in the newly announced Echoing Void DLC!
"In the Echoing Void DLC, you'll face bold new enemies, collect legendary gear, and make your way through challenging missions to put a stop to the untold threats (emphasis on plural) that lurk in the dark dimension in which Endermen reside. Are you thrilled? Excited? Maybe even a bit ecstatic? Good, because there's more!

Just as with our previous adventures, we're bringing a free content update alongside the Echoing Void release! Besides the addition of a handful of powerful enchantments such as Ambush, Shadow Blast, and Void Strike, we're also introducing Gauntlet of Gales – a unique maze-like mission that puts your skills to the test through tricky trials and perplexing puzzles! This gauntlet can be accessed through your mission map and contains challenges that require everything from wit and cunning to endurance and determination. I lack all of these skills, but I'll still give it a shot!"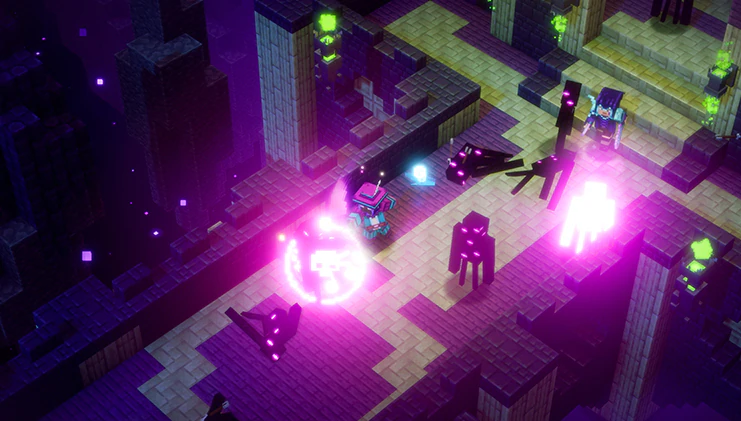 Thankfully, this End-themed DLC will not spell the end for Minecraft Dungeons, as Mojang have promised in their latest blog post that there's still "plenty more to come" for the game after this latest DLC. Within the same post, the team also announced Minecraft Dungeons: Ultimate Edition, which will see the base game and all six of its expansions – including the Echoing Void – bundled together in a single package that will cost less than when bought separately.
Minecraft Dungeons: Ultimate Edition and the Echoing Void DLC will launch simultaneously on all platforms on Wednesday, July 28th.

Leave a Comment