Thanks to Reddit user calysunflower, yesterday we saw a brand new Monopoly board game based on Animal Crossing: New Horizons. Initially spotted at Walmart, the board game is now appearing at Entertainment Earth. Not only that, we have a look at official images for the game as well as details.
From the game console to your game table!
Animal Crossing Monopoly brings you new ways of collecting and world-building.
Based on the colorful and creative world of Animal Crossing: New Horizons.
Customized gameplay, gameboard, villager tokens, cards… and bells!
Watch as your island grows into something amazing!

Hey there, gamer! It's time to take a break from the game console and share your love for Animal Crossing: New Horizons with your family and friends gathered around this fun and exciting Animal Crossing Edition Monopoly Game. Customized to the super-popular game from Nintendo, it brings you villager tokens and new ways to play, with collecting and world-building and of course… bells. Roll the special die to see what surprises await you under every Animal Crossing-themed card. There's also a Nook's Cranny die that determines which type of resources can be sold. Play and watch as your island grows into something amazing! 2 to 4 players. Ages 8 and up.

In this Animal Crossing Edition Monopoly Game, kids and adults can enjoy island life and immerse themselves in the colorful and creative world of Animal Crossing: New Horizons. After your first trip around the board, you choose a Skill card with an ability you can use throughout the game. Moving around the board with custom tokens inspired by the video game, you complete island tasks and meet other characters. Instead of buying properties and paying rent, you collect bugs, fish, fossils, and fruit. You can also stop at Nook's Cranny and cash in Bells to buy decorations. These decorations are worth Nook Miles, and the player with the most Nook Miles wins the game!

Includes gameboard, 4 character tokens, 4 Skill cards, 35 Decoration cards, 14 Chance cards, 14 Nook Miles cards, 160 Resource chips, 40 Five-Bell coins, 54 Bell coins, 40 player markers, a numbered die, a Nook's Cranny die, a label sheet, and game rules.
Despite being found at Walmart this week, Entertainment Earth is listing the board game with an August 2021 release date. It's available to pre-order from them for $24.99.
While the discovery of this new Nintendo-themed edition Monopoly took many by surprise, some have been quick to point out that its existence has been hidden in plain sight! We've received a number of comments on our Facebook page about the board game being available to pre-order at GameStop for months and advertised in-store.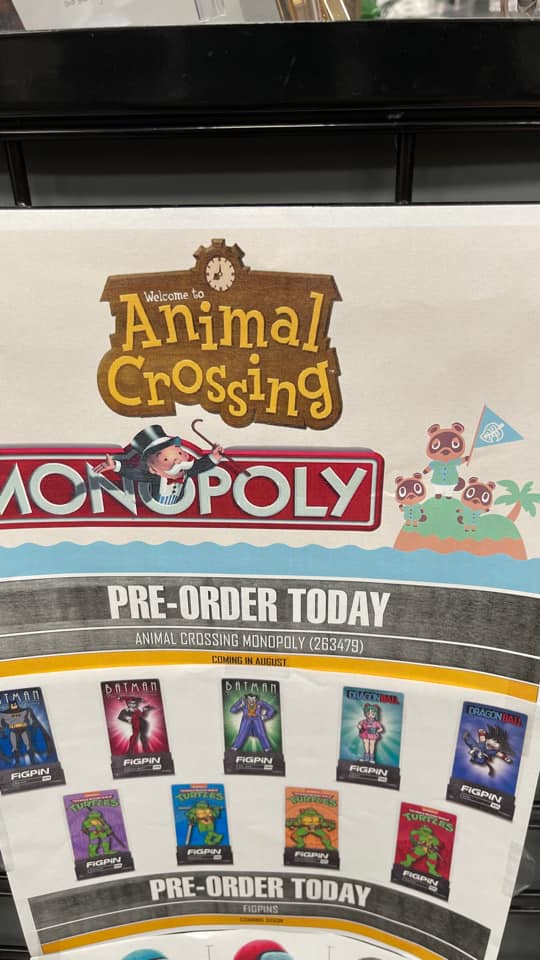 Image posted by Milton Silva on our Facebook post of our initial coverage.
Unfortunately, some of the comments concerning GameStop's pre-orders of the board game revolve around canceled pre-orders. For Animal Crossing: New Horizons and Monopoly fans, it looks like the best place to find the Animal Crossing Edition Monopoly Game is at Walmart or wait for Entertainment Earth's August release.
Nintendo of America and Hasbro have yet to officially announce or address the existence of the board game.
Leave a Comment