Niantic has made no secret of its excitement for the 5th anniversary of Pokémon GO this year, and for fair enough reason. It's not often that mobile games in particular have the longevity that Pokémon GO has had, and a celebration for five years feels… appropriate, to say the least.
As such, the company has pulled out all the stops this year to make sure all Pokémon GO Trainers know just how excited they are for the birthday — and since today is, officially, the day, it comes as no surprise that the official branding for the celebration has started to roll out.
On top of the game's official anniversary event, which sees additions such as Flying Pikachu, Niantic has now also revealed the official logo for the celebration on Twitter. While the logo itself isn't anything too unexpected, early players of the game might notice a callback to the Pokémon hunting mechanics from when the game first launched in the animation of Pikachu walking. For those who aren't aware, those footsteps Pikachu is leaving behind used to be how players located nearby Pokémon. The fewer footsteps displayed beneath the Pokémon, the closer you were to finding it.
Trainers, here's a look at our #PokemonGO5YearAnniversary logo! What's been your favorite Pokémon GO memory, Trainers? Tell us in the comments! pic.twitter.com/AuA5JcYj1k

— Pokémon GO (@PokemonGoApp) July 6, 2021
While the mechanic didn't last long due to a number of server issues it caused, it's fun to see Niantic call back to it in such a subtle way.
But the logo isn't all that's been revealed! In addition, Niantic has also revealed this year's Pokémon GO illustration, which features the new logo in celebration of the 5th anniversary, as well as plenty of Pokémon that have been introduced into the game over the past year. Interesting to note in this illustration are a few hints at what might be to come in the near future.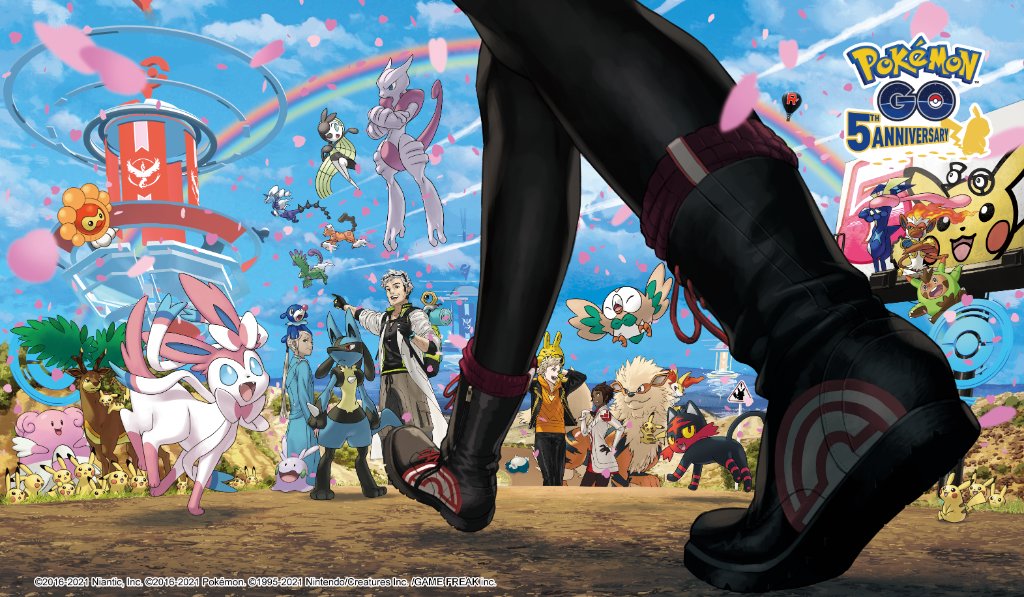 Meloetta is a given, as it's not technically in the game yet, but officially announced for Pokémon GO Fest this month.
Mega Mewtwo X makes an appearance here, despite not having been introduced into the game yet. Its placement next to Meloetta could hint to Mega Mewtwo X raids making their debut during GO Fest, but only time will tell.
In the space between the walking boots in the foreground, you might spot a tiny, triangular warning sign that features the silhouette of what looks like Pikachu dressed as Victini. While it's hard to make out, this could be another fun costumed Pikachu we might be seeing soon.
Finally, in particularly apt news, Pokémon GO has also surpassed $5 billion in lifetime revenue, just in time for its 5th birthday. This data comes from Sensor Tower Store Intelligence, and secures Pokémon GO's place as the leader in the Geolocation AR category on a global scale. In the first half of 2021 alone, the game earned a total of $641.6 million, making it Pokémon GO's best ever start to a year.
For Niantic, and those excited about the 5th anniversary, this is undoubtedly good news — I'm sure the developers are going into this year are confident that they'll see the game continue to grow well beyond this major milestone.
Leave a Comment