Bidoof – they're lovable, have big teeth, and considered to be a god thanks to a meme. This Plump Mouse Pokémon has reached a new level of fame this year by getting its own day. The Pokémon Company announced that July 1st will be known as Bidoof Day and its 2021 edition is already packed with more Bidoof to max out your Pokémon storage. Here's what to expect for the first Bidoof Day!
Pokémon GO
Continuing its Bidoof Breakout event, even more Bidoof bonuses are happening in Pokémon GO! This one-day event includes a Bidoof-themed Special Research, the Bidoof Cup in GO Battle League, and more. Full details can be read on our previous coverage of the announcement.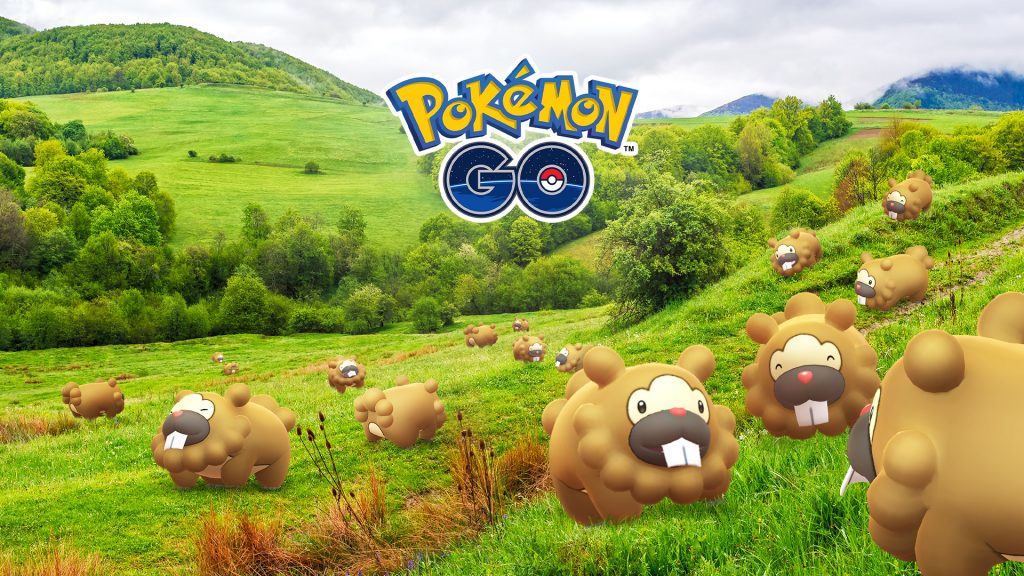 Pokémon Masters EX
First teased on Twitter, Bidoof will be visiting Pokémon Masters EX! They're starring in a log-in bonus, giving players up to 1,200 Gems. Full details have been shared in a press release:
"Celebrate Bidoof Day! To celebrate the Plump Mouse Pokémon, a log-in bonus will be available from June 30 at 11:00 p.m. Pacific Time until July 7 at 10:59 p.m. Pacific Time. Players that log-in to the game for three days throughout this period will be able to earn up to 1,200 Gems, enough to add up to four sync pairs to their teams. The amount of 400 Gems given per day was chosen as a tribute to Bidoof's Pokédex number of 399."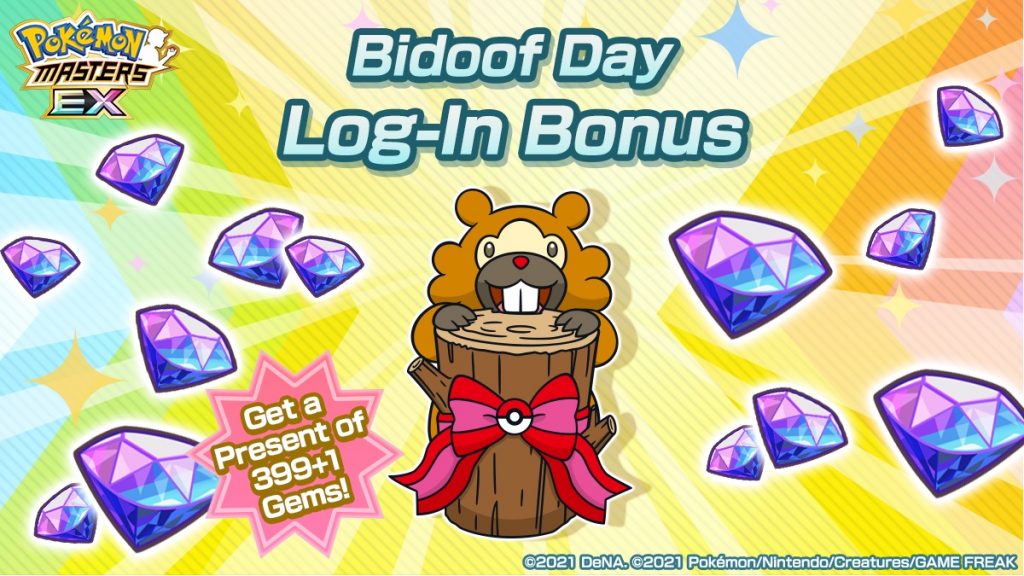 Pokémon Trading Card Game Online
Sure, Bidoof has made multiple appearances in the Pokémon TCG over the years. For Bidoof Day, however, their face will grace digital card sleeves, a deck box, and a coin in Pokémon Trading Card Game Online. These items will be available as a special log-in bonus from Thursday, July 1st at 12:01 a.m. PT, to Wednesday, July 7th at 11:59 p.m. PT.
Pokémon Trading Card Game Online is free-to-play and is available for mobile devices via App Store and Google Play, as well as for Windows and Mac-based computers.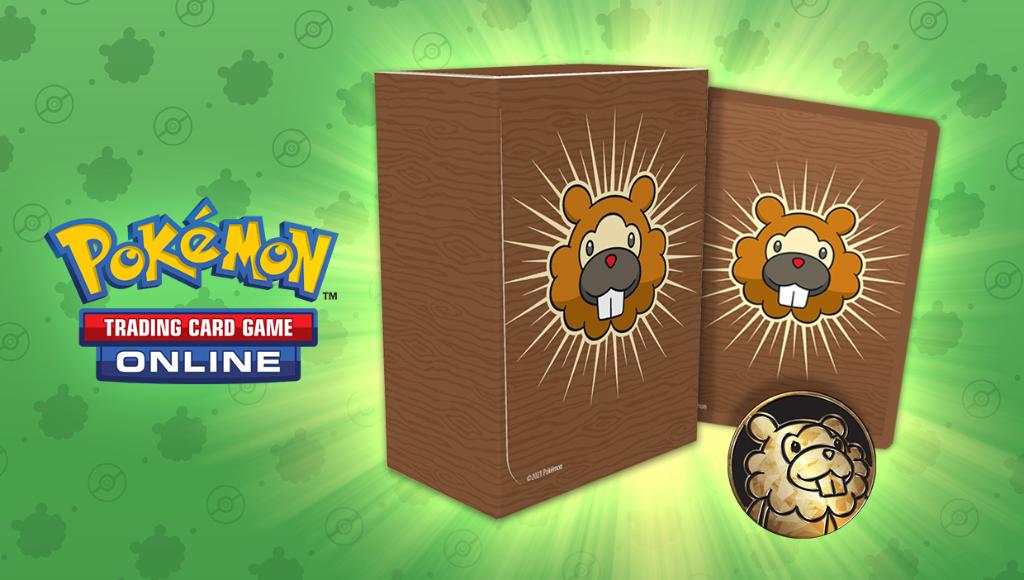 Pokémon TCG – Battle of the Bidoof
As for the physical card game, Play! Pokémon has shared a buck teeth-gnashing video of Bidoof-themed Pokémon TCG decks doing head to head! The video includes commentary from Gabby Snyder and Jeremy Jallen, looks at some of the Bidoof Day merchandise that is available at Pokémon Center, the reveal of the Special Delivery Bidoof card (a riff of the Pokémon Center Special Delivery Pikachu theme and art), a Bidoof name-drop counter, and more.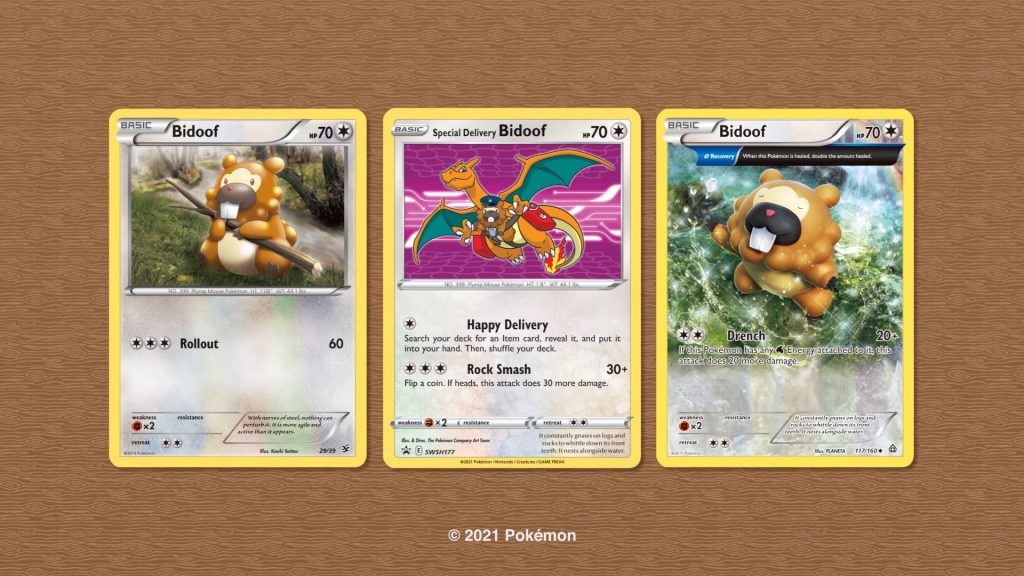 Pokémon Center
The Pokémon Center site for US and Canada will have a special Bidoof Collection available for purchase! Items include Bidoof t-shirts (all-over prints and "Gnaw On" designs), Bidoof Plush Hat, Pokémon TCG playmats featuring Bidoof, a Bidoof Comfy Friends Plush, and a Bidoof Zone tin sign. Prices start at $19.99 ($25.99 CA).
Pokémon x Mondo
Mondo is joining the Bidoof party! Working with The Pokémon Company, they'll be selling a Bidoof screen print illustrated by Nicole Gustafsson (known as @nimasprout).
The print costs $50 and is a timed edition, meaning Mondo will print the total amount that is ordered from Friday, July 1st at 9 a.m. PT to Monday, July 5th at 9:59 p.m. PT. The prints are expected to ship in October 2021 and can be shipped to Africa, Australia, Canada, European Union, Middle East, and the United States according to Mondo's blog post.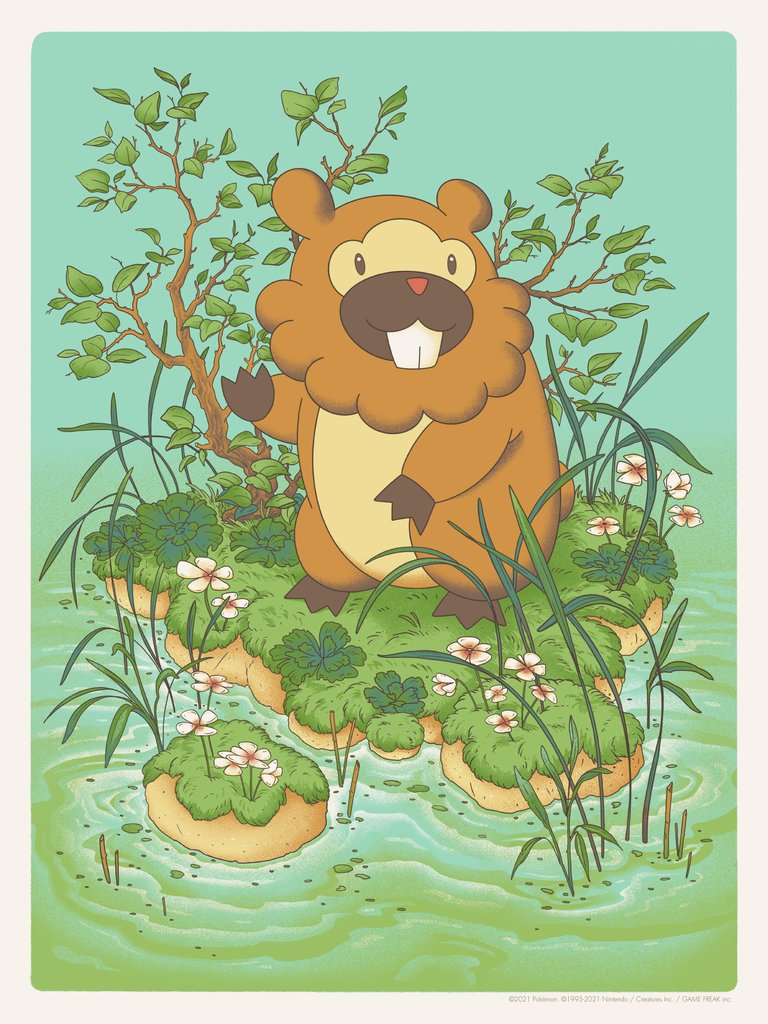 Mega Construx
They're taking over! Mega Construx has announced that Bidoof has taken over their social media accounts. The video accompanying the tweet shows a team of seven Bidoof frolicking through a woodsy set. Wait, perhaps this is also a tease for Bidoof's addition to Mega Construx's Pokémon collection? We'll have to wait for the next tweet to be Bidoof-sure.
UH OH. Bidoof has taken over our social media accounts and there's no stopping them! @Pokemon #MCX #MCXPokemon #BidoofDay pic.twitter.com/g3sxpKltPt

— Mega Construx (@MegaConstrux) July 1, 2021
Pokémon TV
Available to watch for free until Friday, July 2nd is Bidoof's Big Day! The episode from Season 10 of the long-running Pokémon anime can be viewed on the Watch Pokémon site or on the Pokémon TV app!

Pokémon Twitch Stream
Tune in to the official Pokémon Twitch account at 9 a.m. PT | 12 p.m. ET on Thursday, July 1st for "a Bidoof surprise"!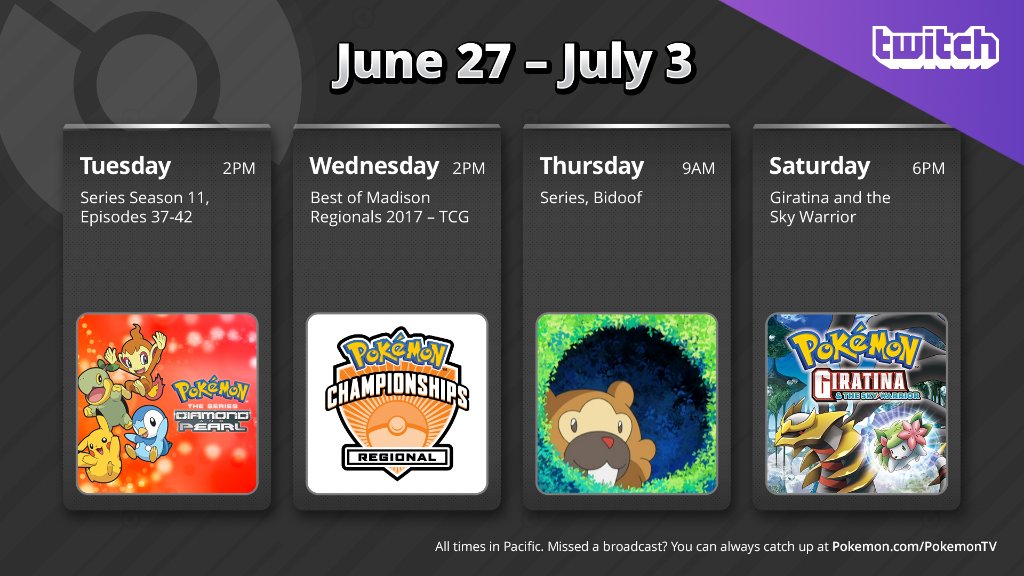 Digital Downloads, Videos, and more!
There are plenty of freebies to download, activities to partake in, videos to watch, and more!
Two wallpapers featuring Bidoof are available to download from the Pokémon TCG site. Sizes include mobile and desktop versions of each.
How well do you know Bidoof? You can test your Bidoof trivia wits with the Bidoof Quiz! There are 13 questions in total, so it'll be easy.
Before you give it a shot, maybe check out this very important Bidoof Day announcement video!
We'll keep watching for any more Bidoof Day surprises and update the article accordingly. Until then, Happy Bidoof Day!
Leave a Comment