Last week, Sonic fans were treated to quite a few announcements that, hopefully, gave them something to be excited about. Among those announcements was the reveal of Sonic Colors: Ultimate, a remastered version of 2010's Sonic Colors—originally released on the Wii—coming in September.
I know personally that a lot of Sonic fans really loved Colors, which is great news considering how passionate Sonic fans can be.
And for the most passionate out there, or for those who are just really into Collector's Editions of games, there's a little bit of extra great news about the rerelease.
While it's still unconfirmed if we'll see any release like this in regions outside of Japan, pre-orders for a Sonic Colors: Ultimate DX Pack have begun on the official Sega Store, which includes the remastered game alongside a whole host of extra Sonic-themed goodies.
Fans who order the DX Pack can expect to get a "Tropical Resort" placemat, which features a graphic depicting Egg Planet Park; a synthetic leather accessory pouch in beautiful Sonic blue, with subtle metal detailing that depicts the Sonic logo and the title of the game; an eco-friendly tote bag with an all-over design featuring a bright and colorful Wisp pattern; a Sonic Colors: Ultimate acrylic stand depicting Dr. Eggman, Obot, and Cubot.
The real standout of the entire package, though, is the hanging-scroll style tapestry featuring art of Sonic and the different colored Wisps in the sumi-e style of painting. The illustration is absolutely stunning, and the colors against the stark black brush strokes make for a really impactful print design that would undoubtedly look good in any Sonic fan's office, bedroom, or game room.

In addition to the DX Pack, fans can also pick up the 30th Anniversary Package DX Pack. This version of the DX Pack also comes with several items that celebrate Sonic's 30th birthday. The first is a special artbook called "Life in Sonic's World Vol. 1," which features art from the "SONIC PICT" illustration series on Twitter, commentary on the illustrations, and even secret stories about the production.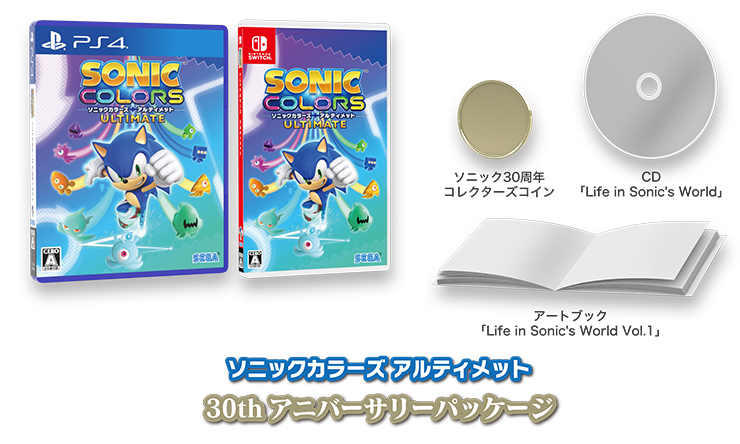 Buyers will also receive a "Life in Sonic's World" compilation CD, and a limited edition 30th Anniversary Collector's Coin.
Sonic Colors: Ultimate releases worldwide on September 7th of this year, though fans in Japan (and thus, anyone ordering these specific editions) will have to wait until September 9th. No word yet as to whether or not we'll be receiving any sort of collector goodies for the game in other regions, so we'll have to keep our fingers crossed and hope for the best!

Leave a Comment