Each year, the Strong National Museum of Play takes a small collection of classic and noteworthy titles from gaming's past and immortalizes them within the World Video Game Hall of Fame. This year is no different, with unquestionably iconic titles such as Starcraft, Microsoft Flight Simulator, and Where in the World is Carmen Sandiego? being added to the honorable halls. Among this year's inductees is a title very close to many Nintendo fans' hearts: the original Animal Crossing.
Meet the class of 2021! The Strong inducts Animal Crossing, Microsoft Flight Simulator, StarCraft, and Where in the World is Carmen Sandiego? into the World Video Game Hall of Fame. #VideoGameHall https://t.co/0f576DVbrC pic.twitter.com/fVc6bV9O1S

— The Strong Museum (@museumofplay) May 6, 2021
Originally released exclusively in Japan for the Nintendo 64 back in 2001, the game's premise was completely fresh and new, providing the experience of an interactive community in a way that hadn't been seen in games prior. Animal Crossing was later localized for the West via a port for the GameCube, which added more holidays and features that weren't possible on the older hardware. This localized release of the game is the version that has received the honor of being entered into the World Video Game Hall of Fame.
Racquel Gonzales, a Research Historian at the Strong National Museum of Play had this to share on one of the many reasons why Animal Crossing has been chosen this year:
"The freedom of play in Animal Crossing gave the game wider gender and age appeal than many other video game titles of its time. The low stakes of Animal Crossing also allowed people to play at their own leisure without penalty. These elements may help explain why its latest installment proved such a huge hit during the COVID-19 pandemic, when everyone was searching for a little neighborly sociability."
Animal Crossing's deservedness for this honor along with the Gonzales' assessment of the series' appeal are sentiments many of us here at Nintendo Wire would fully agree with, and I believe our own Daniel Dell-Cornejo also summed up the appeal behind the series perfectly in his review for Animal Crossing: New Horizons:
"If I had to describe Animal Crossing, I'd describe it as… magic. And I know how ridiculous that sounds, but it really is. It's warm; it's cozy; it brings people together. It's coming home after a long day and curling up in bed. It's a blank canvas on which you can spend hours gushing creativity through your fingers. It's catching 17 sea bass in a row trying to land a coelacanth. It's checking the time and realizing you've been playing for 9 hours straight and you missed your friend's birthday party you said you were definitely showing up for and now she won't return your calls. It's– It's a lot of things …"
The Animal Crossing series is something special, and it's fantastic to see the entry that started it all receiving such a high honor all these years later. On behalf of everyone here at Nintendo Wire, I'd like to extend a massive congratulations to the tams at Nintendo who have worked on the franchise over the years, and thank them for their efforts in bringing the gaming world one of its most magical and endearing titles!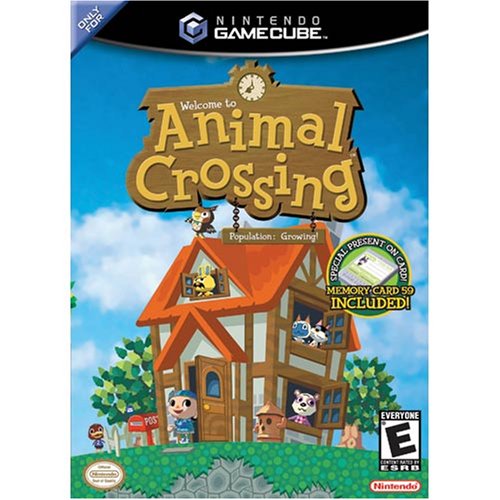 To read up more on Animal Crossing and the rest of the games that will be added to the World Video Game Hall of Fame this year, check out the announcement on the Strong National Museum of Play's official site.
Leave a Comment