Capcom's latest Monster Hunter Digital Event has ended, and with it came a full breakdown of what's to come in Monster Hunter Rise Ver. 2.0. A few of these, such as the elusive (and thieving) Chameleos and an Apex variant of Rathalos, were already announced, but they're not the only new monsters on the way.



Two other Elder Dragons are also making their debut, those being Teostra and Kushala Daora. These two have been a part of the series for some time, controlling incredible heat and unyielding winds respectively. As for Apex monsters, Diablos is trying to burrow its way into Kamura Village as a charging, roaring Rampage threat.
That wasn't the only news for Apexes though, as it's been announced that quests will be added that allow hunters to take on Apex Arzuros, Apex Rathian, and Apex Mizutsune outside of the Rampage. Whether Apex Rathalos and Apex Diablos are getting the same treatment right away remains to be seen. Flagship monster Magnamalo will now appear during Rampages as well, giving Rise's new quest type some hellish variety.
The other main additions coming this update will be the ability to craft layered armor, letting you dress your hunter as you like without any alteration of skills or stats. If you've been using the Magnamalo amiibo unlock or Kamurai Deluxe Edition bonus, you're already familiar with the idea. Now be ready to become a real fashion hunter once 2.0 drops!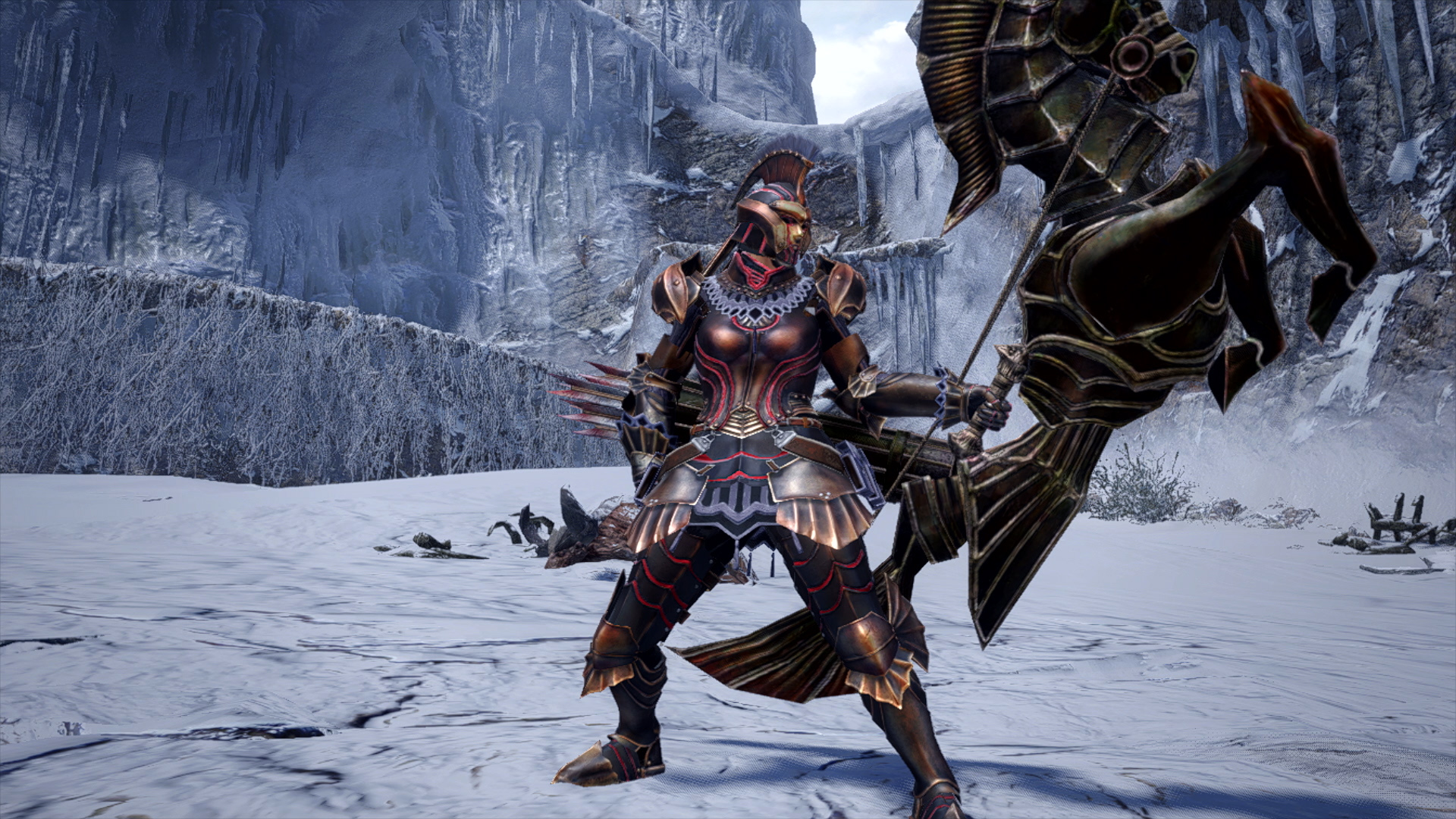 Lastly, the HR cap will be removed. Since launch, players have only been able to reach HR7. With the new update that will be removed, and as you complete quests your rank will climb higher and higher. Some of the new content being added will be locked behind this rank, with a Chameleos hunt being the threshold breaker by the look of things.
Launching at the same time as Version 2.0 will be some new, paid DLC as well. All of this is cosmetic or communicative in nature, such as layered armor sets for hunters and buddies as well as new voice options, gestures, and stickers. Like the first batch, it will all be available as standalone pieces or in a larger value pack to save a bit of scratch.
Downloadable Event Quests will also be on the way. Unlike in Monster Hunter World, these are going to be more classic in their inclusion. Players who download these quests during their availability period will be able to play them whenever they like, online or off. Hopefully these roll out more continuously to keep things fresh between these larger updates.
The full Monster Hunter Rise 2.0 patch notes have some other small details, such as the Palico and Palamute level caps being raised and more monsters, more decorations and Petalaces being available, the armor upgrade cap being raised, and new Rampage skills being added. It's sure to be quite a lot of content, and this is only the first batch planned!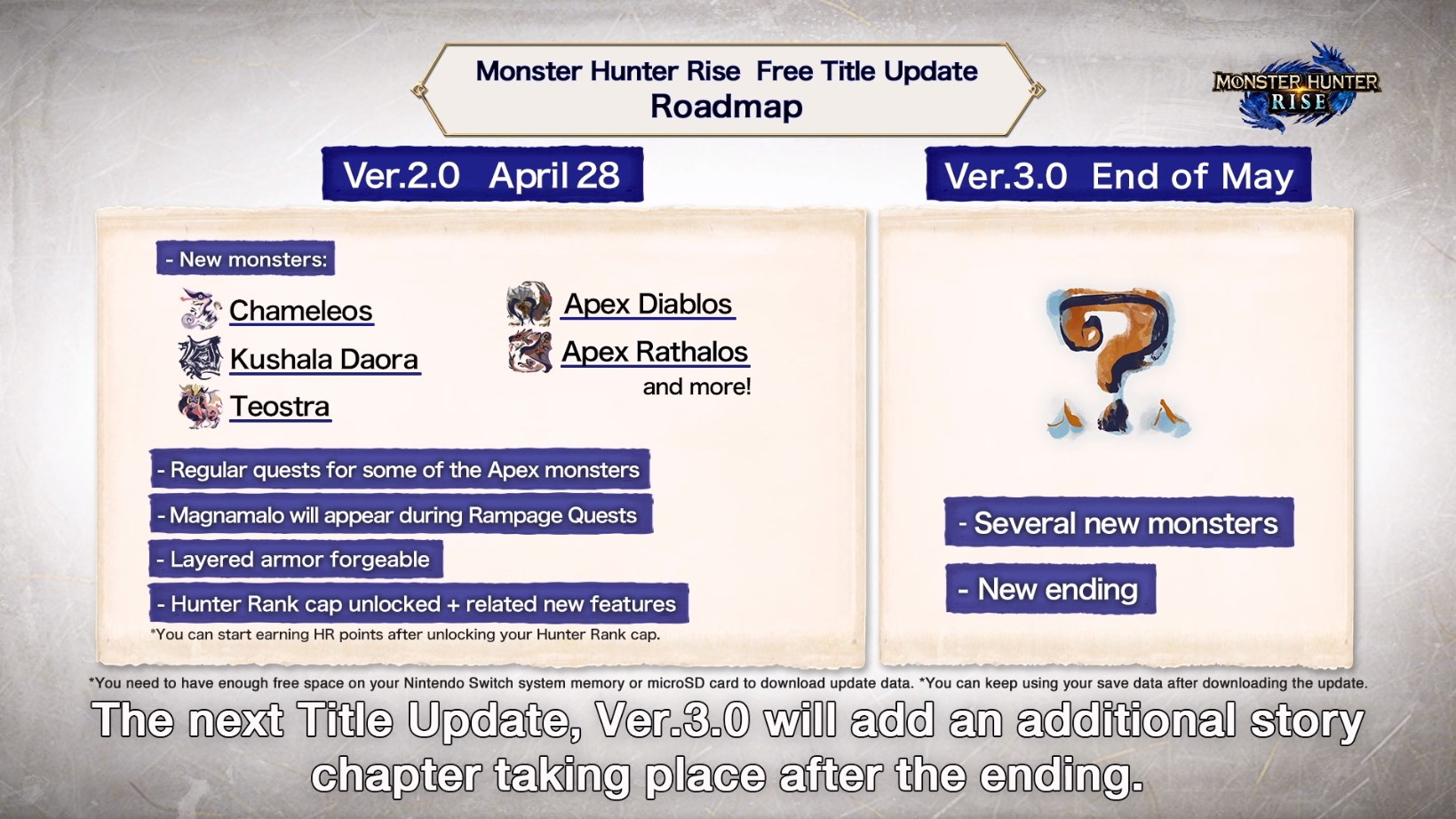 Monster Hunter Rise Ver.2.0 will be available to download, for free, starting April 28th. The next major update, Ver.3.0, will be arriving at the end of May and will add a new ending to the game's story and several new monsters of its own. Finally, for anyone taking in by the newest Monster Hunter Stories 2 trailer will be pleased to know that having save data of that game will grant you a set of Rider layered armor in Rise.

Leave a Comment