Every few weeks there is bound to be a new batch of Poké Lids installed around Japan and this time eight have finally allowed a two-time generational favorite to crack into the public eye. Exeggutor, the coconut Pokémon, and its Alolan form now have their very own Poké Lids and PokéStops installed into several towns located in the Miyazaki Prefecture of Japan.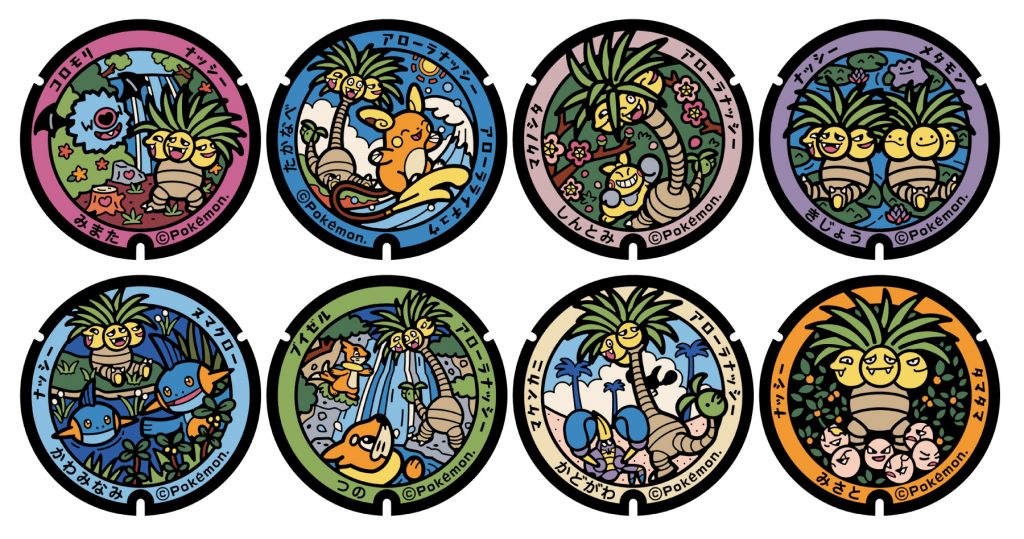 As can be seen above, four standard and Alolan form Exeggutor Poké Lids contain beautiful art featuring other Pokémon from across the franchise's generations such as Marshtop, Raichu, Woobat, Buizel, and more. The Exeggutor themed lids have already been installed in the towns of Mimata, Takanabe, Shintomi, Kijo, Kawaminami, Tsuno, Kadogawa, and Misato, but below you can also check out their public unveiling ceremony that took place yesterday Thursday, April 22nd.
【速報】宮崎県に設置される新たな「ポケふた」がお披露目されました!#ポケふた #ナッシー #宮崎だいすきポケモン#ポケモンローカルActs pic.twitter.com/ioP12Au7Fa

— ポケモンだいすきクラブ編集部【公式】 (@pokemon_pdc) April 22, 2021
As we have reported many times in the past with the Poké Lid phenomenon, the manhole covers not only act as fun tourist attractions for local citizens and visitors of the area, but they will all double down as PokéStops for Pokémon GO players. These PokéStops provide higher spawn rates for their pictured species and, of course, provide items to players passing by. When more Poké Lid news makes the rounds we will be sure to let you all know!
Leave a Comment