Prior to this week's Indie World Showcase, Nintendo was celebrating the 20th anniversary of the Animal Crossing franchise. Debuting on the Nintendo 64 in Japan, the latest entry in the Animal Crossing (Dōbutsu no Mori) series, Animal Crossing: New Horizons for the Nintendo Switch, certainly catapulted the life sim full of cute animals to new popularity heights. Whether you met Tom Nook for the first time last year or way back during the GameCube era, the music of Animal Crossing has always stood out – changing by the hour, weather/seasons, and during special events.
Yet, Animal Crossing: New Horizons hasn't had an official soundtrack release. Nintendo is fixing that and has partnered with Nippon Columbia to release multiple soundtrack collections for last year's hit island getaway escape.
Releasing on June 9th in Japan, fans will be able to chill out to the Animal Crossing Original Soundtrack BGM Collection and Animal Crossing Original Soundtrack K.K. Slider Music Collection Instrumental.
The BGM Collection (priced at ¥4,950, tax included) consists of 173 tracks split across 4 CDs. Songs include the hourly tunes and their weather variants, location-specific tunes (Museum, Able Sisters, Resident Services, etc.), holiday event music, being stung by a bee, and more. As a bonus, the at-home performance of the game's main theme by New Horizons' music crew is also included.
K.K. Slider Music Collection Instrumental (priced at ¥4,400, tax included) is all about everyone's favorite guitar-playing dog. The instrumental versions of his songs, 95 in all for this release, are divided into 3 CDs.
Both collections are packaged in themed Digipak cases using official artwork from the game.
For those who want to get both collections, Nintendo and Nippon Columbia have combined them into a limited edition bundle that comes with a few bonuses.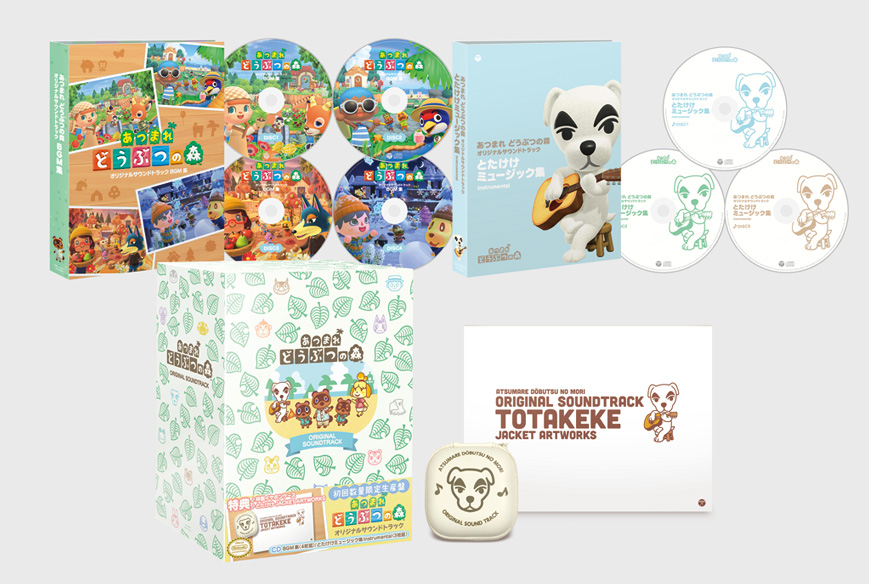 Retailing for ¥11,000 (tax included), both Digipacks are housed in a special luxury box that also includes a K.K. Slider-themed earbud case and book featuring the artwork of each K.K. Slider single from the Japanese release of New Horizons.
While slated for release in Japan, the CD collections have appeared on import sites as well as Amazon.com. As of this posting, the limited edition's import listing is sold out on Amazon and is the #1 Best Seller in the Soundtracks category. Play-Asia is still accepting orders for all three releases of the soundtrack collections, ranging in price from $41.99 to $101.99. (If you do purchase any of these soundtracks at Play-Asia, you can save 5% on your purchase when you use our code NINWIRE at checkout.)
For now, if you want to add any of these CDs to your music collection, you'll want to import them (ASAP if you're eyeing the limited edition) as Nintendo of America hasn't commented about a North America release to date.
Leave a Comment