When I was young, I recall coming across the Nintendo 64 game Hey You, Pikachu! in a magazine. Making use of the N64's Voice Recognition Unit, the game let players talk to a Pikachu on their TV screen, which would then respond accordingly. The game eventually made its way outside of Japan and into the States, but never Europe, leaving this British Pokémon fan heartbroken. It turns out some things never change, as 20 years later I'm now pining for the Japan-only "Talk! Norinori Pikachu" robot, a toy by Takara Tomy Arts that lets you talk and interact with your very own Pikachu.
According to Famitsu, the toy has three microphones installed, placed on its left, right, and front. The microphones at the sides are designed to pick up the direction of your voice, while the one on the front recognizes the keyword spoken by the user. This allows Pikachu to turn its head in your direction as you speak, letting you know it's "listening" with various reactions such as nodding. Norinori Pikachu can also be quite the little chatterbox itself, with various lines containing over 60 words.
The toy contains a number of different play modes that can be activated by your voice. When you tell Pikachu to "sing," it will respond by singing the ending theme to the Pokémon XY&Z anime, "Pikachu no Uta." A "dance" command will result in the toy playing three other Pokémon anime theme songs, randomly flowing together for Pikachu to dance to. When you say "listen to music," another mode will trigger where Pikachu will dance to the music in the room or your own singing voice.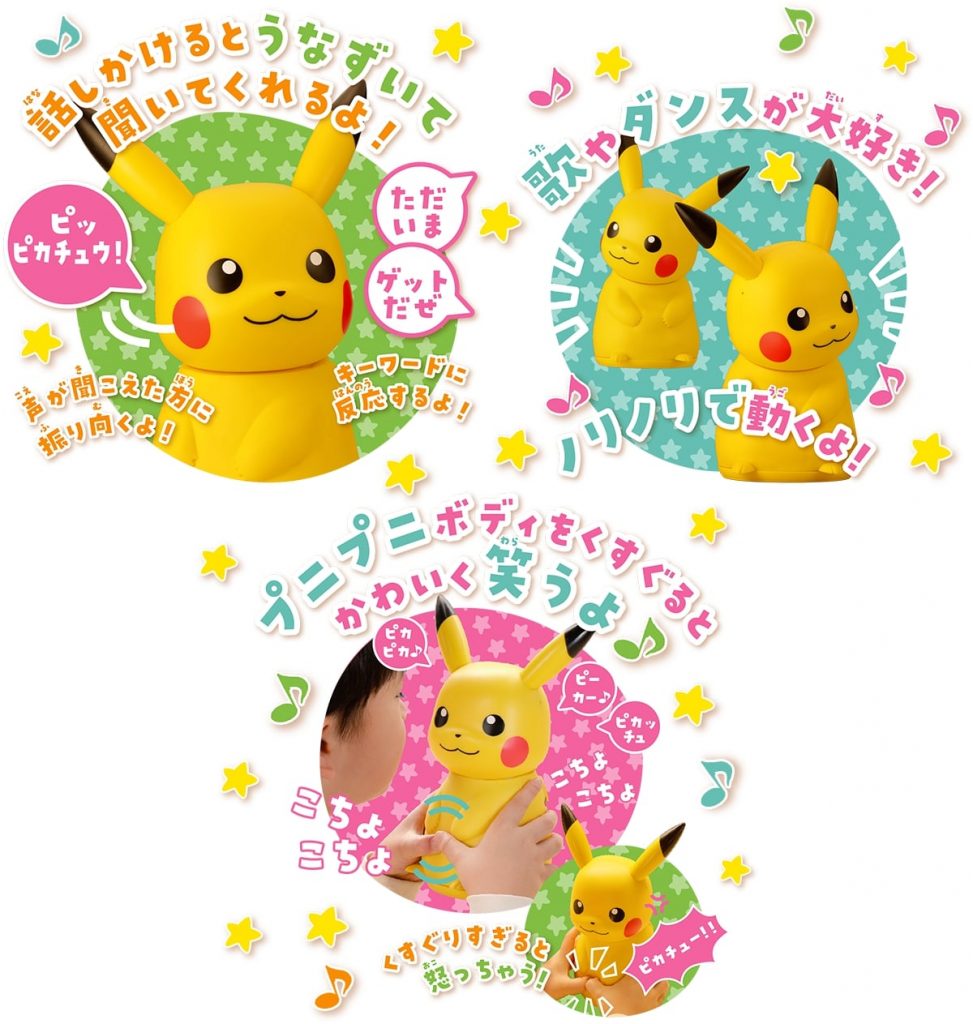 If you press and hold the button on Pikachu's stomach, it will respond with "Pika?" Here, you can issue one of 15 key phrases for various animations, such as "I've decided on you!" or "get it!" If you tickle Pikachu too much, it will angrily animate with an electric "attack."
Finally, you can play a game with Pikachu called "Which one do you want?" In the game, Pikachu will turn to face up, down, left or right. With each move, the user must quickly call out the direction in which Pikachu faces. If Pikachu recognizes three correct answers in a row, it will congratulate you.
Talk! Norinori Pikachu will be released in stores across Japan on June 17th, 2021 with a suggested retail price of 8,800 yen (approximately $80.50/£58.61). The toy comes with an instruction manual and requires 4 AA batteries (sold separately). It is made of soft TPR material, weighs 470 g, and measures at 156 mm (width) x 238 mm (height) x 140 mm (depth).
Leave a Comment