Now that it's April, the official Pokémon 25th anniversary site is ready to open another region exhibit! Last month we kicked off the celebration with a feature on the Galar region and for April, we're traveling to Game Freak's Pokémon adaptation of Hawaii – the Alola region!

A generation that introduced Alolan forms and Ultra Beasts, our first trip to Alola thanks to Pokémon Sun and Moon (or Ultra Sun and Ultra Moon) brought plenty of more changes! The typical Pokémon League formula was shaken up, introducing us to the Island Kahunas. Throw in the special Z-Moves, Pokémon battles took on a new competitive edge. The Pokédex received a big upgrade too, now combined with a Rotom for more features and colorful commentary. We can't forget Malasadas – a Portuguese confection that is popular in Hawaii. Extremely delicious too, in my opinion!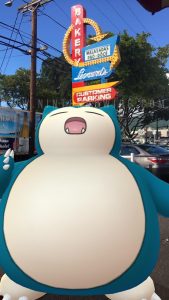 A wild Snorlax spotted at Leonard's Bakery in Honolulu, HI.
Same as the Galar region exhibit, the opening of the Alola exhibit coincides with the release of the Pokémon TCG: First Partner Pack (Alola) set. If you're able to find the packs for their MSRP $9.99, you can add these jumbo Pokémon TCG cards of Rowlet, Litten, and Popplio to your collection.
Check out the exhibit to relive the memories you've made while traversing the Alola region and look forward to next month's exhibit featuring the Kalos region!
Leave a Comment