The end of the world has nearly returned, as today Atlus has announced when fans can (re)experience one of the finest Shin Megami Tensei titles there is. Shin Megami Tensei III Nocturne puts you in the role of the Demi-fiend, letting you fight alongside your recruited demons while maintaining your humanity. This HD Remaster will give the game another chance to bring audiences into its apocalyptic setting when it releases on May 25th.

ATLUS Director Kazuyuki Yamai has a special message for all #SMT3 fans!

Shin Megami Tensei III Nocturne HD Remaster is coming to Nintendo Switch, PlayStation 4, and Steam on May 25, 2021.

Pre-order now: https://t.co/jU5vp3cmMe pic.twitter.com/SsptQHkcO0

— Official ATLUS West (@Atlus_West) March 19, 2021


Features new to this release will include:
Remastered 3D models and backgrounds
Additional difficulty settings for players of all skill levels
Suspend save – save your progress whenever you need!
Voiced audio – choose between Japanese and English VO
An alternate branch featuring Raidou Kuzunoha
Similar to the fellow Atlus title Persona 5 Strikers, MegaTen III HD will also be receiving a Digital Deluxe Edition. Priced at $69.99, it will include the following:
Full Game Download
Exclusive access to the game four days early, on May 21
Maniax Pack

Adds Dante from the Devil May Cry™ Series

Chronicle Pack

Adds Raidou from the Devil Summoner Series

MERCIFUL Difficulty

Adds an easier difficulty mode

Mercy and Expectation Map Pack

"Little Master's Mercy"
"Master's Expectation"

Shin Megami Tensei BGM Pack

"BGM Pack 1: Shin Megami Tensei®" (2 songs)
"BGM Pack 2: Shin Megami Tensei® II" (2 songs)
"BGM Pack 3: Shin Megami Tensei® IV" (2 songs)
"BGM Pack 4: Shin Megami Tensei® IV: Apocalypse" (2 songs)
The most notable of these is the Maniax Pack, which will grant you a version of the game that includes Devil May Cry's Dante. Not only will he be encounterable as a boss, but you can also recruit him to fight alongside you if certain conditions are met. The Chronicle Pack instead features Raidou Kuzunoha in Dante's place, and is the 'default' edition of the game for the HD Remaster.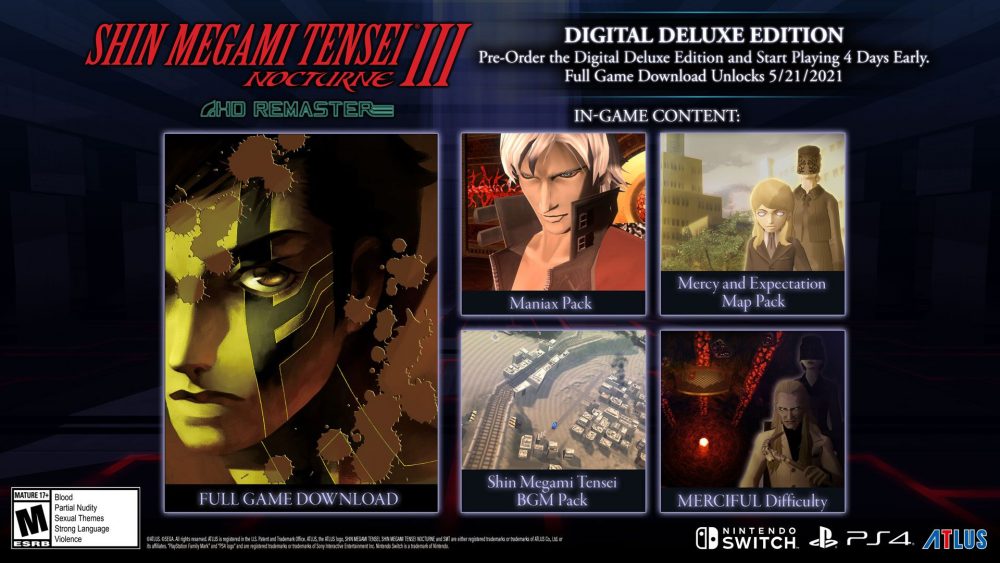 Of course, a standard physical edition will also be offered, priced at $49.99 on both Switch and Playstation 4. These will be available on the game's official launch date of May 25th.

Leave a Comment