The soundtrack portion of Mr. Sakurai Presents has always been a treat, and where unexpected surprises work their way in. It's how we learned Joker's Mementos stage would change color based on which Persona game a song was from, and where SNK shattered all expectations with their massive song list. For Pyra/Mythra, though, we instead got a fairly (dare I say) routine mix of songs, both taken directly from Xenoblade Chronicles 2 and via some new arrangements.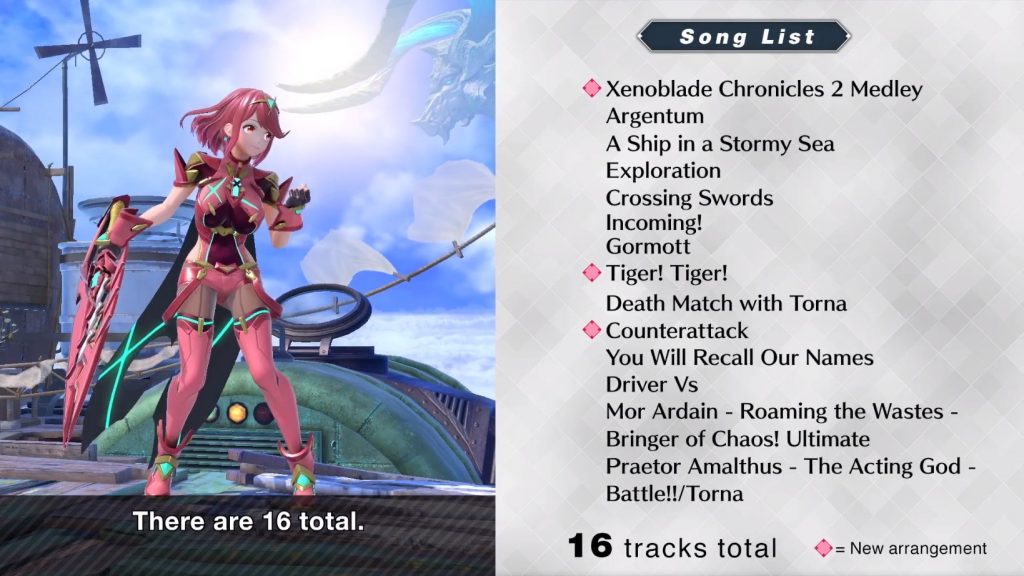 The 16 included songs, with new arrangements marked with an '*' are:
Xenoblade Chronicles 2 Medley*
Argentum
A Ship in a Stormy Sea
Exploration
Crossing Swords
Incoming!
Gormott
Tiger! Tiger!*
Death Match with Torna
Counterattack*
You Will Recall Our Names
Driver Vs
Mor Ardain – Roaming the Wastes –
Bringer of Chaos! Ultimate
Praetor Amalthus – The Acting God –
Battle!!/Torna
Despite the lack of any unique flourish to the series' music in this DLC, Xenoblade has always delivered in this department. While these are most fitting on the new Cloud Sea of Alrest stage, they'll also be playable on the Gaur Plains stage. That will have its My Music rates changed ever so slightly to reflect the presence of a Xenoblade Chronicles 2 stage as well.
All of these songs, which can be previewed a bit during today's Mr. Sakurai Presents, will join the game alongside Pyra/Mythra later today, March 4th (and March 5th for Europe).
Leave a Comment