Fire Emblem Heroes has revealed the winners of its annual Choose Your Legends popularity vote, and as expected we're seeing some Three Houses characters take the top spots. If you hadn't spotted the interim results, though, the big winner this year might come as a bit of a surprise.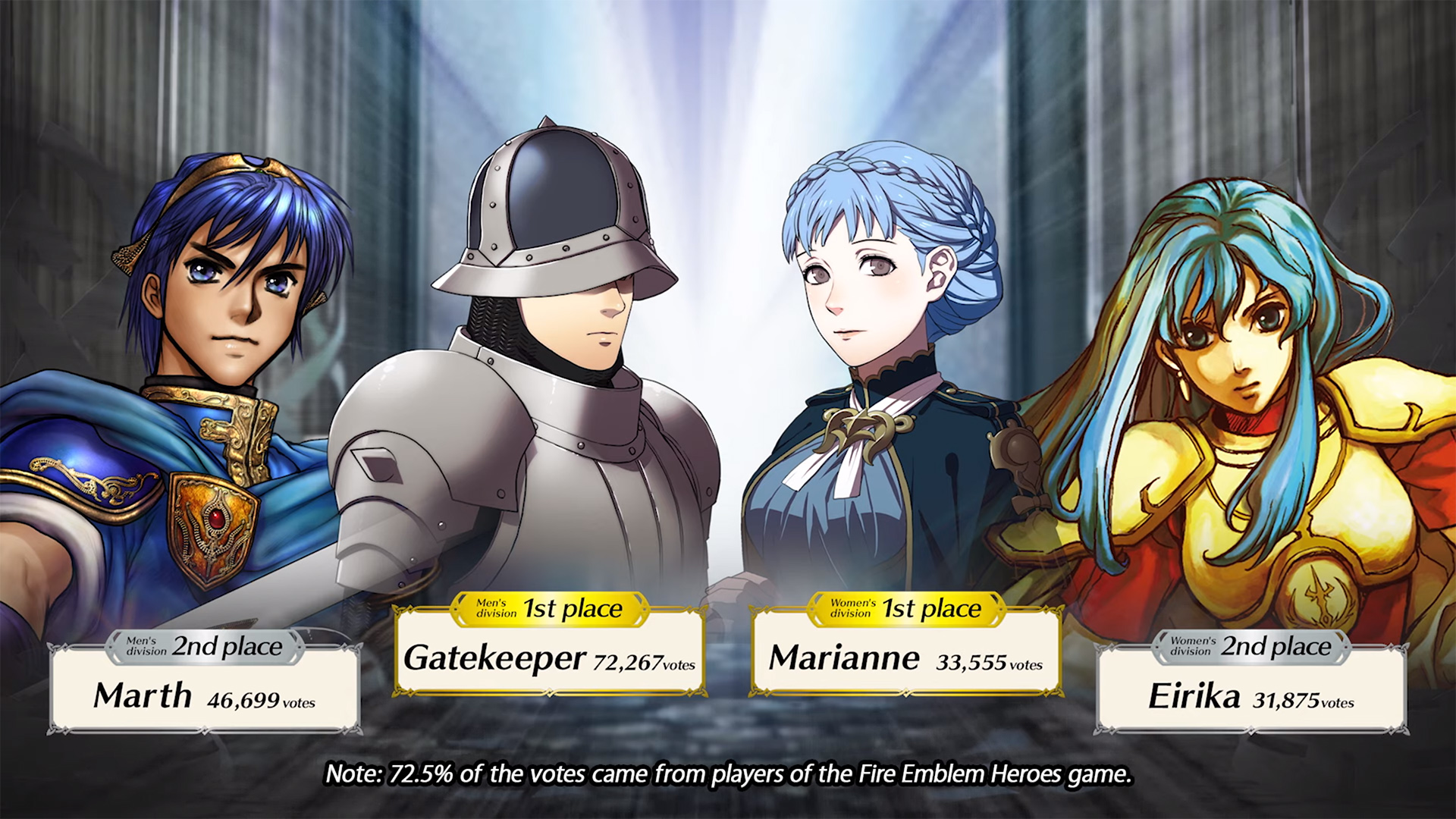 "Greetings, Professor! Nothing to report"…other than an absolute landslide for Three Houses' Gatekeeper! This NPC endeared himself to players, greeting anyone who took the time to chat with him every chance they could. Humble and cheerful, he may not be a typical hero but he just became a legend.
Though he couldn't touch Gatekeeper's 72,267 votes, Marth has finally taken a top spot in a Choose Your Legends vote, sitting comfortably at second place for the men's division. As an aside, Chrom took third place in both the men's and overall voting. That may not do anything for him this time around, but if Super Smash Bros. is to be believed, I suppose he'll get his chance another day…
Taking first in the women's division is another Three Houses' representative, that being the Golden Deer's Marianne! She secured 33,555 votes herself, putting her nearly 2,000 ahead of second place finisher Eirika, from Fire Emblem: The Sacred Stones. You can see the top 20 for each division below, and review the full results (from first place all the way to 600th) on the Choose Your Legends website.

The top Heroes from the Choose Your Legends: Round 5 event will appear in-game with CYL edition outfits!

Men's Division
1st: Gatekeeper [Three Houses]
2nd: Marth [Shadow Dragon/Mystery of the Emblem]
Women's Division
1st: Marianne [Three Houses]
2nd: Eirika [The Sacred Stones] pic.twitter.com/6qOAzqYAB4

— Fire Emblem Heroes (@FE_Heroes_EN) February 2, 2021


All four of the top placing characters will be receiving their special versions in game sometime this summer, letting fans march into battle alongside the Gatekeeper at last as he rubs shoulders with the likes of Ike, Hector, Alm, and Dimitri.

Leave a Comment