News about the upcoming release of battle royale Apex Legends on Nintendo Switch is coming "very soon," according to game director Chad Grenier.
Grenier shared the information on Twitter in a response to a fan asking when the game will launch on Switch.
Will have some news very soon!

— Chad Grenier (@ChadGrenier) January 28, 2021
Apex Legends is a free-to-play battle royale first-person shooter in which teams of three or two players dive onto a map and loot weapons and resources to fight for survival.
Players can pick from one of 16 "legends" to play as, each with unique abilities and personalities, with more added each season.
The game's eighth season, "Mayhem," is scheduled to launch tomorrow, February 2nd — a date which many expect to be the launch date for the Switch version of the game.
Murmurs around a February 2nd release date have been heard for weeks, with reports published about Amazon Japan listings showing the date, quickly-removed overseas trailers outright mentioning the date, and the game appearing on the official Japanese Nintendo site as "recommended software for this spring."
BREAKING: The Japanese version on YouTube states Apex Legends is coming to Switch on February 2.

"And on February 2nd, it will be possible to play on Switch at the same time as the start of Season 8!" pic.twitter.com/63TpUn27Mx

— Apex Legends News (@TitanfallBlog) January 18, 2021
Images of Japanese stores setting up displays for "Apex Legends: Champion Edition" have popped up on Reddit, as well.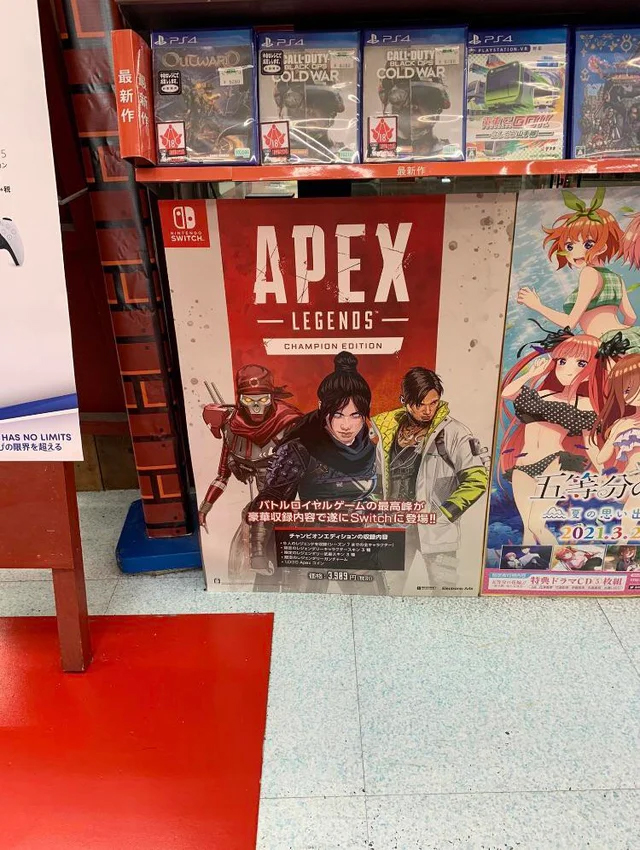 The game was originally set to launch on Nintendo Switch in Fall 2020, but was delayed "in order to do justice to the game and make it into the great experience Switch players deserve."
Apex Legends is currently available to play for free on PlayStation 4, PlayStation 5, Xbox One, Xbox Series X/S, and PC via Origin and Steam.
Leave a Comment