Animal Crossing: New Horizons's first free update of 2021 has finally been detailed, and thankfully, it's a doozie. On top of today's announcements for the Festivale holiday and Pavé being added to the game, and the global release of the Animal Crossing x Sanrio amiibo cards, Nintendo's Japanese site has now shared info on a bunch of new items that will be added to the game (in addition to the press release shared by Nintendo of America). New seasonal items, furniture, clothing, and even four new emotes have all been officially confirmed for the update when it arrives tomorrow!
For starters, all players who install the 1.7.0 update will receive a free pair of maracas in the mail. These new instruments are great for shaking in the faces of your friends and villagers while strutting your stuff during the Festivale event! Also, this screenshot provides a clearer look at the special Festivale-themed bongo, which leads us to…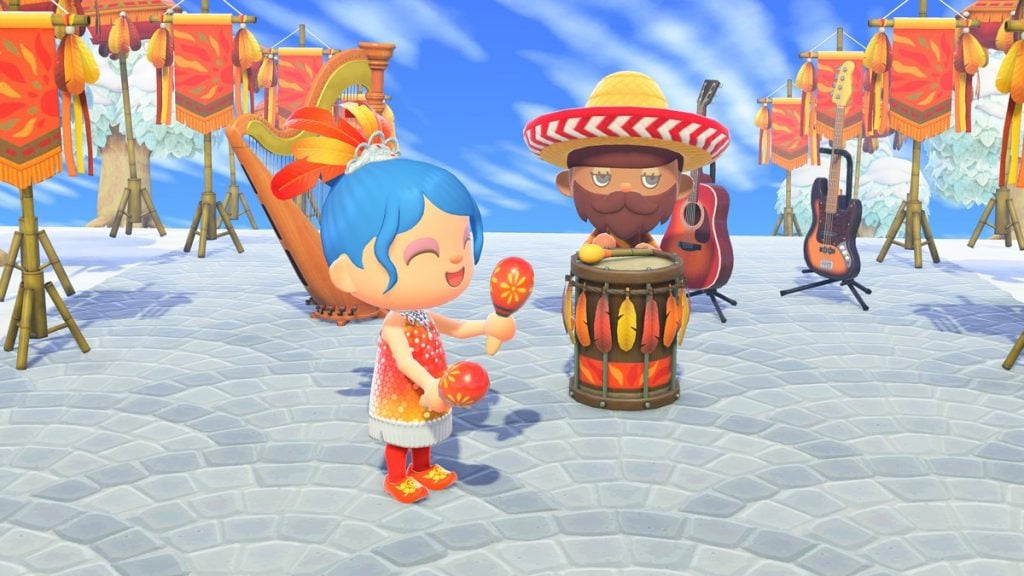 Beyond the new instruments, brand new Festivale themed furniture and clothing will begin appearing at Nook's Cranny and Able Sisters beginning on February 1st. The new furniture features vibrant colors and lights — perfect for livening up your island as you shake off the dreary winter through the power of dance! The new clothing items are equally as energetic, with flashy samba outfits and headwear that serve as a perfect accompaniment to the new decor.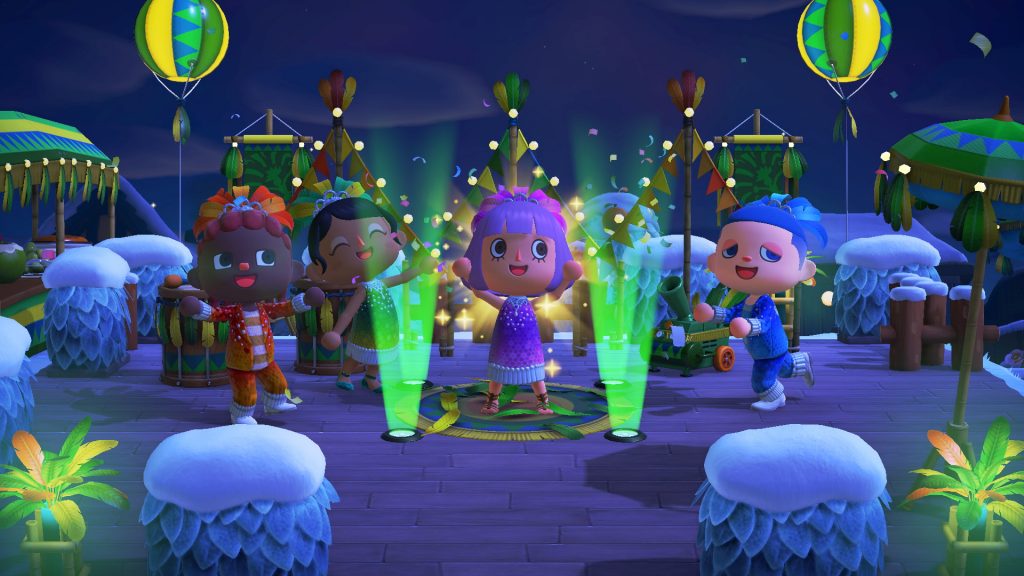 The Nook Shopping app will also have a slew of new items available to celebrate the early holidays and events during the new year! The first of these new items are the throwing beans and Oni costumes making their return from Animal Crossing: New Leaf in time for Setsubun, a traditional Japanese holiday that precedes the arrival of spring. The throwing beans will be available to order until February 3rd, while the Oni costume will begin appearing in stock at the Able Sisters on February 1st.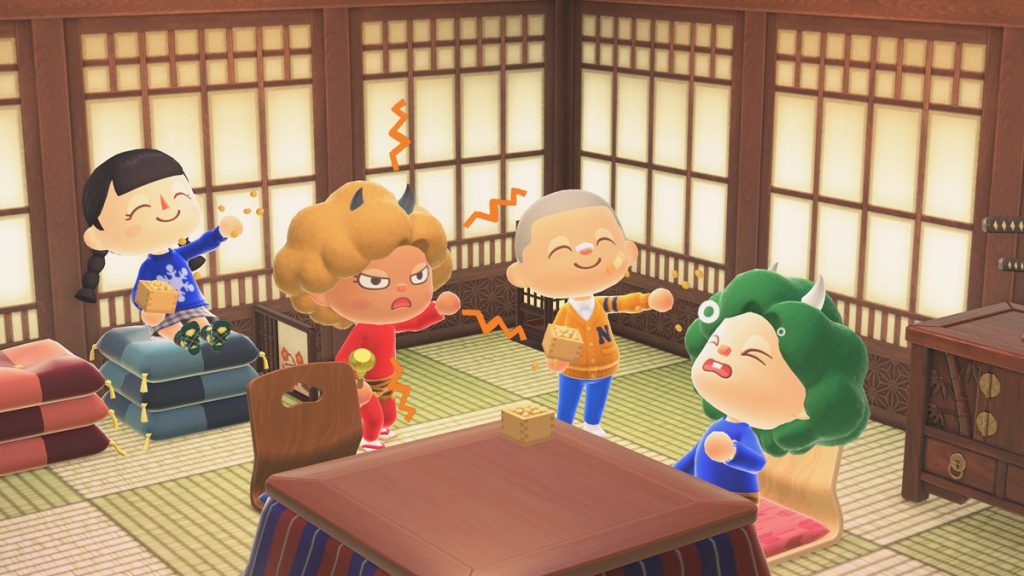 Also beginning on the first of February, players can order a pair of Valentine's Day-themed items. The Heart Chocolate and Heart Rose Bouquet are perfect to give to that special someone — or simply keep for yourself! There aren't any laws that say you can't be your own Valentine, so show yourself how much you appreciate having you in your life because you're worth it! These items will be available to order until February 14th, and different color variants will be available each day.
A few more new items will go up for order throughout the rest of January and into February: A Groundhog Day figure modeled after the best Mole ever, Mr. Resetti, will be available as soon as the update drops and can be ordered until February 2nd. Also, a "Big Game Celebration" rug and megaphone items will be available to order until February 15th. Similar to the Valentine's Day items, the megaphones will be available in different colors every day — make sure you have enough for all your friends at your island's Super Bowl party!
Rounding out the deluge of new items are two more New Year's themed furniture pieces, which will be available from February 10th to the 17th. These new items are the Korean New Year's Otoshidama Coin Purse, and the Japanese New Year's Otoshidama Envelope.
With all the excitement swirling around today's Animal Crossing news, you may want to start dancing, and thankfully, you soon can! Four new reactions will be added to the game via the update and can be purchased as a set from Nook's Cranny. The new reactions are Feelin' It, Let's Go, Viva, and Confetti.
Whew, that's a lot of new content! Combine all of these new in-game items with the arrival of Festivale and Pavé, the forthcoming Super Mario furniture in March, as well as the potential return of the Sanrio villagers, and it's clear that the post-holidays content drought is well and truly over! Be ready to download this brand new update when it's available starting tomorrow, January 27th, at 5 p.m. PT.
Leave a Comment