Amongst a global pandemic and health concerns, having a theater packed with attendees and press was not a possibility for The Game Awards during this odd year. However, the show still managed to pull through with a substantial digital presentation containing its usual announcements, performances, advertisers (Wooper Watch alert!), and slip-ups.
In a storm of exciting news, The Game Awards show host and creator, Geoff Keighley, took to Twitter Thursday morning to express his enthusiasm for viewers who continued to watch the production despite the unimaginable obstacles 2020 presented.
This year #TheGameAwards viewership grew over 83% to more than 83 million livestreams.

This is beyond our wildest expectations; I was just happy we could even produce the show this year.

Thank you for watching and being a part of this global community. pic.twitter.com/gAKIb68jHp

— Geoff Keighley (@geoffkeighley) December 17, 2020
While it is known that the show's viewership has exponentially risen dramatically year by year, 2020 saw an 83% increase in total viewers. The Game Awards grew to over 83 million livestreams with peak concurrent viewers of 8.3 million. In other words, Keighley's award show impressively almost doubled in viewers just like that over the last three years. These results are by far the most notable to date as it means the show's viewership has increased by over 40 million people in a matter of one year – an impressive feat for both streaming and television standards.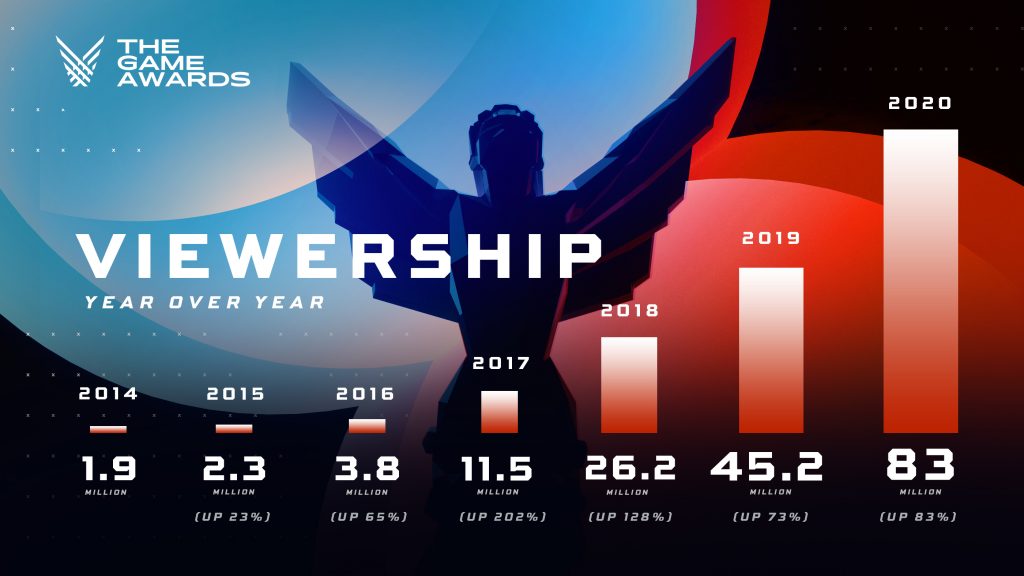 The average watch time for The Game Awards was also up by over 129% across all streaming platforms including YouTube, Twitch, and Facebook. Total Twitter conversations rose by 31% while hashtag usage doubled by 107%. Keighley did not provide statistics for other social media platforms, but they no doubt all saw a significant boost in discussing the event.
As The Game Awards community continues to expand, it is no surprise why the showcase has greatly expanded in scale every time it returns. For our 2020 The Game Awards coverage, you can view it all here.
Leave a Comment