A few months back, we reported on a LEGO Nook's Cranny set which was posted onto the LEGO Ideas website. The set, which faithfully recreates Tom Nook's quaint general store, gained a ton of attention online and quickly received the 10,000 votes needed for LEGO to review the set. Should the LEGO company and Nintendo both agree to move forward with the set, it would see mass-production and release in stores worldwide!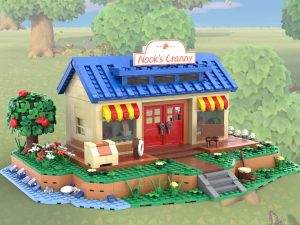 The official LEGO Ideas blog has shared an interview with the creator of the set, Simon Dudley. In the interview, Simon discusses his history with LEGO, his inspiration for the set, the process of making it, and shares some advice for aspiring Master Builders. 
Here's hoping the powers that be at LEGO and Nintendo will agree to produce the set so we can all have a miniature Nook's Cranny in our homes, yes, yes!
Leave a Comment