The wait is finally over.
That's the opening line in PUMA's press release detailing the PUMA and Super Mario collaboration and I couldn't agree more! For some sneakerheads and Super Mario fans, you can breathe a sigh of relief and get ready for a trip to Isle Delfino. The second Super Mario-themed RS-Dreamers, inspired by the seaside paradise in Super Mario Sunshine, has an official release date and it's Friday, November 27th!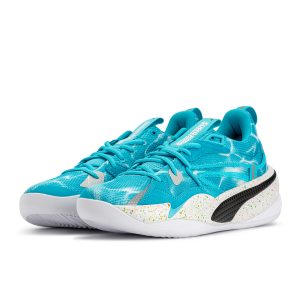 If that date sounds familiar, it's because it's the same day that three other Super Mario kicks (Future Rider, Clyde, RS-Fast styles) will be releasing. Yes, the Super Mario Galaxy RS-Dreamers aren't mentioned in this new update, but something extra special (and a surprise) was shared instead. Launching globally on Friday, December 4th is the Future Rider Nintendo Entertainment System.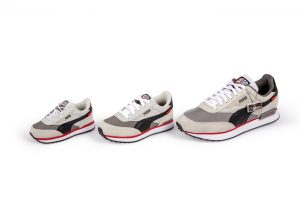 "An exciting surprise that pays homage to Nintendo's original console will drop early in December, the Future Rider Nintendo Entertainment System™ shoe will be available in infant, kids, and adult sizes. The grey, red, and black color scheme is a direct nod to the system's design. The tag on the shoe's tongue features the cover of the first-ever Super Mario Bros. game. Other fun embellishments include the Power and Reset buttons, and a hangtag shaped like the Classic NES™ Controller."
While a price hasn't been shared, it could be around $90 as that's the same price as the Super Mario 64 Future Riders. 
Ready to add these shoes to your collection? According to PUMA, "All styles will be available on PUMA.com and select retailers worldwide, while the Clyde and RS-Dreamer Super Mario Sunshine will be available exclusively at U.S. Foot Locker stores and online." Make sure you're ready before the shoes go on sale Friday, November 27th, at 10 a.m. ET and Friday, December 4th, at 10 a.m. ET!
Good luck, superstars!
Leave a Comment