UPDATE: The tentative September 17th release date for the shoes has not panned out despite an earlier listing on Footlocker.com.au suggesting they would hit stores on that date. We'll be sure to let you know when they become available!
---
Puma's highly sought after Super Mario 64 themed RS-Dreamer basketball shoes launched last Friday. The red-and-blue stylin' shoes are still available in small sizes made for younger kids, but for the most part, if you want your own pair, it's off to an inflated resell market. While it would be nice to hear if a restock is in the works, you'll want to set your sights on the next two Super Mario designs that Puma will be releasing. 
During last week's leak thanks to Australia's Footlocker site, we noticed that there was a color variant listed on the placeholder page for the Super Mario 64 themed shoes. Clicking that link took you to another placeholder page with barebones information, save for the color being listed as "White – Multi-color" and that it would be released on Thursday, September 17th. Viewing that page now will take you to an Error 404 page, sadly. 
Then, over the weekend we received a tip on Twitter from @sam_madriz about a listing on eBay that showed off a pair of the RS-Dreamers, but in the style of Super Mario Galaxy. This listing has since sold, yet the same seller has also listed another pair that is available at the time of this article being published.  
Initially, we thought that this could be the color variant listed on Footlocker.au, but thanks to Kuwait's Footlocker site, we know that isn't the case. In fact, Puma is making shoes inspired by each game featured in Super Mario 3D All-Stars for the Nintendo Switch. Coming soon are RS-Dreamers in the style of Super Mario Sunshine and Super Mario Galaxy. The color classification for these pairs are "Puma White" and "Puma Black," meaning that it'll be Super Mario Sunshine's turn in the spotlight… and probably selling out in a flash.  Behold the fancy product shots of these shoes below.
PUMA x Super Mario Galaxy & Super Mario Sunshine
Also, another fun discovery is that Puma has some Super Mario inspired hoodies and t-shirts to match. While these aren't advertised on Puma's site, they are available for purchase online from Champs Sports (retailer owned by Footlocker).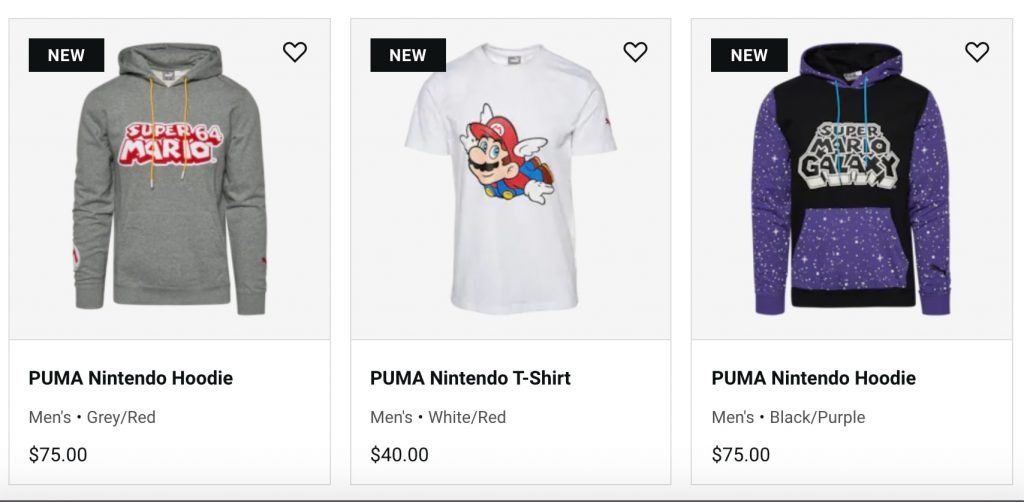 It makes one wonder if Puma is holding onto anything else. Perhaps we'll see a restock or a second wave of designs next year? Until that happens, for now, mark your calendars for Thursday, September 17th, down as the tentative release date for the RS-Dreamer Super Mario Sunshine variant.
Leave a Comment