As previously announced, the Kirby Café is due for a dusting of snow and new seasonal items both for its menu and its store. Kirby Café Winter is nearly here, and we now have a full look at what exactly that entails for any guests able to visit its locations starting next week.
Inspired by a wintery landscape near Whispy Woods, Kirby and Waddle Dee have been a little sidetracked playing in the snow but have gathered up fresh ingredients for this time of year. It's up to Chef Kawasaki to keep them in line and put together some new, fantastic dishes! 
The warm winter offerings include a Winter Kirby Burger, featuring the pink puffball as the top bun with an adorable little scarf. This is also served with a warm soup and pasta, making it a fairly filling meal, and will also come with a plate as a souvenir. Another hearty offering would be Kirby's Beef Stew, putting his cute face on a flakey, pie-like pastry on top and also including its serving dish as a present. 
One of the more highly-themed dishes is Chilly's Hamburger Steak, served hot but covered in a "sleet" of tofu to mimic a Japanese igloo, with the snowman helper and some decorative ice crystals for good measure. Kirby's Gratin Bowl is also on the way, serving up potatoes, cheese, and macaroni in a Kirby shaped lunch box that you can take home with you. 
Two more new dishes are on the way, though they have less to do with winter and more to do with the recently released Kirby Fighters 2! The Wrestler Kirby Burger includes garnish inspired by Mexico to go with his luchador mask, but the real star here is dessert. Meta Knight and King Dedede are partnering up for this Tag-Team Dessert Duo. Pairing a strawberry jelly with a yogurt sorbet (modeled after Dedede's hat and Meta Knight's mask respectively) and adding their weapons for good measure makes this a great option to share.
A pair of new, kiln-baked pizzas are also on the way, including one topped with a monjayaki (think a mix of various toppings, cabbage, and batter that's popular in Tokyo) and one with plenty of seafood from Dedede Resort. The Hakata Kirby Café has its own locally-inspired pizza as well, this time modeled after ramen! If you're after something lighter though, you can't go wrong with Kirby's Hors d'oeuvre plate featuring blocks made of Spanish-style omelette and ham and cheese millefeuille. 
Plenty of new dessert options are on the way for Winter as well! Fittingly enough, recurring boss Ice Dragon is here with a Pastel Cream Anmitsu. This traditional Japanese sweet features a unique kind of jelly and is mixing in both ice cream and shaved ice to capture the season's coldest times. If you prefer to stay indoors, Kirby's House is being made out of a delectable cheesecake and served with fresh fruit – and comes with a ceramic Kirby, Waddle Dee, or Chef Kawasaki. 
New dessert pizzas are also on the way, and as always they're served on a Kirby shaped board. These include berries and white chocolate, chocolate banana, caramelized apples, and one option that lets you choose a half-and-half approach f you like the look of two different flavors. These (along with all the mentioned menu items) will be served beginning November 11th. 
Debuting the same day are brand new goods featuring Kirby Café Winter art as well as something a little more practical. These include a new clear file and blanket featuring the key image of the Winter scene, featuring Kirby and friends enjoying their meals in a snowscape in the forest. There are also new postcards and the more neutrally themed Kirby Café hand sanitizer bottles.
If you're somehow in Tokyo or Hakata this winter, be sure to set a reservation and pay a visit to taste even just a few of these Kirby Café Winter menu items. There will also be new latte art and a winter coaster as a present with any drink order. Though the nights are getting colder, the Kirby Café is keeping hearts warm with more delicious times and precious memories all year round.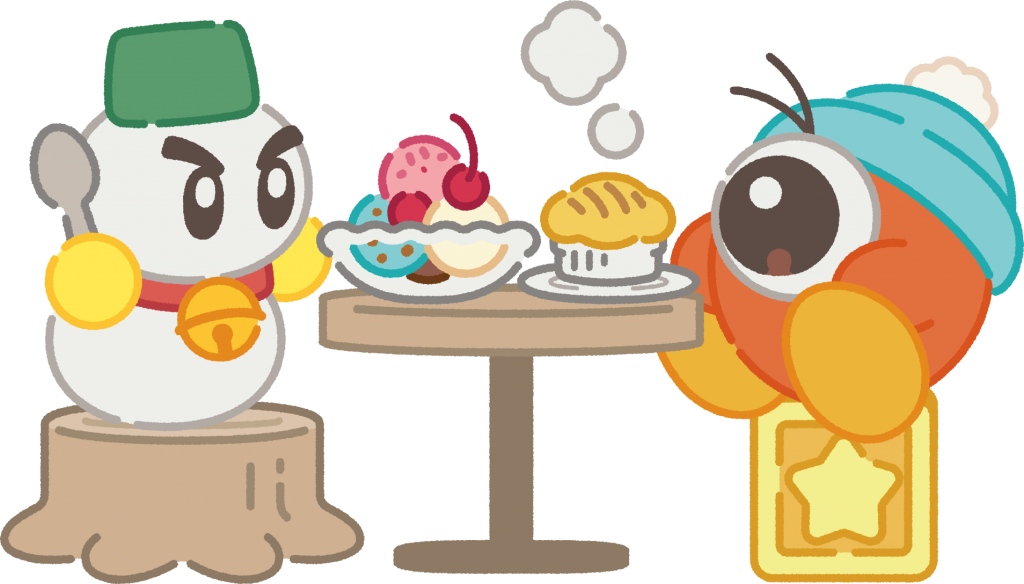 Leave a Comment