GungHo Online Entertainment kicked off Ninjala's Season 3 on Thursday, October 29th with a bang and celebrating a new milestone too. First, the latest update comes with tons of new surprise content and additional gameplay changes.
To get things started on the roundup, Season 3 will be focused on a collaborative event between GungHo and artist Kyra Pamyu, focusing on her latest hit song in Japan "Ninja Re Bang Bang Steve Aoki Remix." From now until November 25th, players can purchase a special package containing the song to play during battles, a dance emote, and a special ninja costume that comes straight from Pamyu's music video.
While GungHo did not detail pricing for the limited-time package, the company did provide more information regarding the new single-player content. Players are able to purchase Chapter 2 of the single-player campaign for $9.99 on the Nintendo eShop. Those who missed out on Chapter 1 will also have the opportunity to pick up the story mode's first half for $0.99 until Tuesday, November 3rd. Outside of the paid-for content, players will also be treated to the following additions and changes for free:
The Croissant Arena is a French-inspired stage that features the new Drone Monitor, which lets players locate where the Drones will spawn.

Two new Hammer weapons are introduced alongside a new Gum Ninjutsu, Special, and Gum Shoot.

The Baiting Shark Gum Ninjutsu traps enemy players via an unassuming scroll placed on the ground. When another player comes near, a shark jumps out and attacks them.

The Full-Throttle Field Special deploys a health regenerating barrier to help protect and heal a wounded Ninja.

The Gum Laser Gum Shoot fires a laser in a straight line and burns anything between you and the end of the beam.

Spectator Mode allows players to watch Battle Royale and Team Battle matches by switching between either an overhead camera or different player POVs.
On top of the new season, GungHo announced that Ninjala reached 5 million downloads worldwide on Saturday, October 24th. To commemorate their latest milestone, the developers have stated that all players who log into the game until Thursday, November 5th will be eligible to obtain a free gift of 100 Jala (in-game currency). In addition, the developers have released brand new art that you can check out below!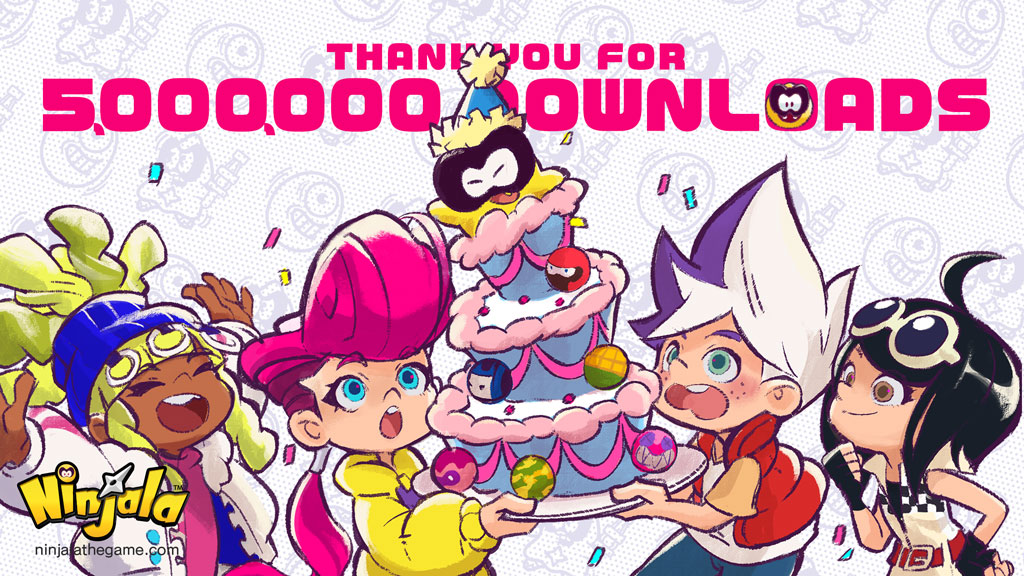 Players who currently log on to Ninjala will receive a daily bonus that can add up to 1,100 Jala. Be sure to hop on, grab your free rewards, pop some Ninja Gum, and check out Season 3 during its first week!
Leave a Comment