It was previously announced that Bandai Namco had "a lot planned" for the Tales of series' 25th anniversary. While we've seen things like a new mobile game (Tales of Crestoria) come along and the next motherships title (Tales of Arise, sadly not coming to Switch) get delayed, last week some new artwork was shared, breathing a bit of life into the celebration.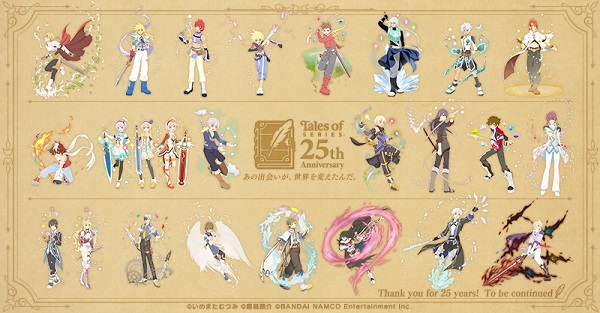 The Japanese Tales of 25th Anniversary site has now been updated with 25 new illustrations of each series protagonist. This includes the main characters of mothership titles and key side/escort tiles, as well as the leads of various mobile games. Along with the artwork comes the announcement of a roll out of several pieces of merchandise over the coming weeks, some of which can already be viewed on the site.
Whether you fought alongside Lloyd Irving back in Tales of Symphonia or have just met Yuri Lowell in Tales of Vesperia: Definitive Edition, be on the lookout for more Tales of 25th anniversary information later this year.

Leave a Comment