Update: Today, Nintendo of America posted the following information on their various social media channels – the amiibo of Banjo & Kazooie, Terry, and Blyeth will be releasing in Fall 2021.
New Super Smash Bros. series #amiibo will be arriving 2021! Get collecting with the Banjo & Kazooie amiibo figure, be the teacher's pet with the Byleth amiibo figure, and serve up a burn knuckle sandwich with the Terry amiibo! #SmashBrosUltimate pic.twitter.com/sb7D6P5JwD

— Nintendo of America (@NintendoAmerica) October 5, 2020
There's been no reason given for this timeframe, but one would think that COVID-19 has certainly played a major part in it. Hopefully, this amiibo release gap will be filled with more releases besides Cat Mario, Cat Peach, and the Monster Hunter Rise trio.
---
The original article was written by Jason Ganos and published on Saturday, October 3rd, 2020.
Get ready, amiibo fans! During this morning's Sakurai Presents, we got our first look at the Banjo & Kazooie, Terry, and Blyeth amiibo. All three are confirmed for a 2021 release.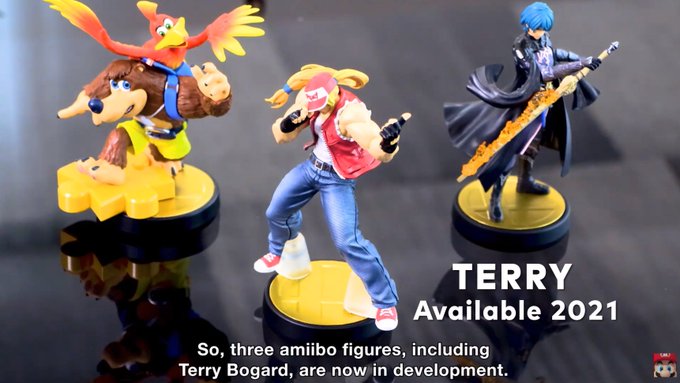 For a better look, these detailed product shots were released after the presentation.
We'll continue to follow any and all future updates, including when these three amiibo will be available to pre-order. Until then, we'll just have a wait till 2021 to add the remaining Fighters Pass Volume 1 roster to our amiibo collections.
Leave a Comment