The web animation RWBY has come a long way over the years. Not only has it grown in popularity and crossed overseas borders, it's crossed over in a different way as part of BlazBlue: Cross Tag battle. Now it looks like Arc System Works' partnership with production company Rooster Teeth is gaining a third member in the form of indie dev WayForward.
That's right, this trio is coming together to create a RWBY game planned for multiple consoles and a release window of 2021. The untitled project will be developed by WayForward, who will also co-publish with Arc Sys, with Rooster Teeth providing creative oversight. This includes the game's story, which will be handled by the show's writers Kerry Shawcross, Miles Luna, and Eddy Rivas.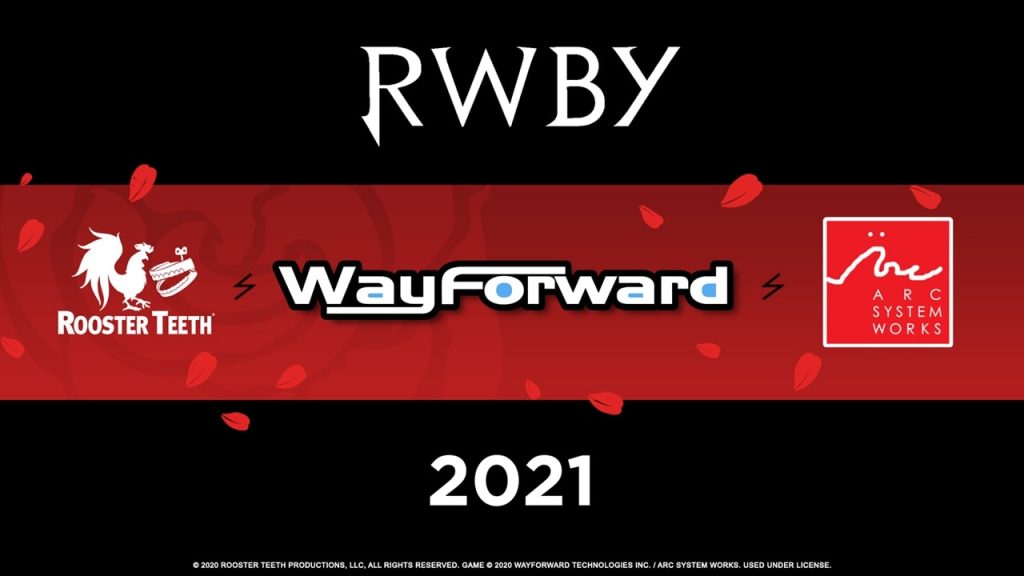 For clarity, there's no full confirmation of a Nintendo Switch version at this time. However, both WayForward and Arc System Works have brought multiple titles to the system, including the previously mentioned BBTag, the entire Shantae series, and one joint effort in the form of River City Girls.  
The full press release, including quotes from WayForward and Arc Sys staff, can be found below:
Valencia, Calif. – 9/16/2020 – WayForward, Rooster Teeth, and Arc System Works Announce New
RWBY
Video Game!
The blockbuster animated series returns for an all-new interactive adventure!
Independent game studio WayForward (Shantae and the Seven Sirens, River City Girls), in conjunction with entertainment company Rooster Teeth and publisher/developer Arc System Works (Guilty Gear -Strive-, BlazBlue Cross Tag Battle), is thrilled to confirm the production of an all-new video game based on the global animated hit RWBY. RWBY is the first western-style anime to be distributed in Japan and is produced by Rooster Teeth in Austin, Texas.
Rooster Teeth will deliver an original RWBY story for the game from the show's writers Kerry Shawcross, Miles Luna and Eddy Rivas. Development of the game will be handled by WayForward, while publishing duties will be split between WayForward and Arc System Works, and creative oversight will be provided by Rooster Teeth. The RWBY video game (final title TBD) is tentatively scheduled to arrive on multiple platforms in 2021.
"It's a massive honor to be trusted with a beloved brand like RWBY," said WayForward Tyrannical Overlord Voldi Way. "Collaborating with the innovators at Rooster Teeth has been a blast, and we think the characters, personality, and style of RWBY are a great match for WayForward's design sensibilities. We hope that fans are looking forward to seeing their favorite Huntresses in action as much as we're looking forward to bringing the game to them."
"To this day and date, I still cannot forget the awe when I first saw Monty's RWBY," said Mori Toshimichi, Chief Producer at Arc System Works. "At the same time, I cannot thank enough to all of Rooster Teeth for giving us the chance to have RWBY participate in Blazblue Cross Tag Battle. We are also in deep gratitude to WayForward for bringing us River City Girls. And now that we're all in this new RWBY project, I am tremendously thrilled to the coming of this new masterpiece."
Initially revealed during Rooster Teeth's virtual RTX at Home event, the upcoming game will let players take control of Team RWBY — Ruby Rose, Weiss Schnee, Blake Belladonna, and Yang Xiao Long — and use their trademark weapons and abilities to deliver the stylish action that has made RWBY a sensation with audiences worldwide. Additional information about the gameplay, features, distribution, and pricing will be revealed at a later date. For more details about WayForward's lineup of games, please visit www.wayforward.com.
"As huge fans of WayForward's and Arc System Works' past games, we could not be more excited," said Shawcross. "Bringing a new RWBY game to life in one of our favorite genres, and with two of our favorite developers, feels like a dream scenario to us."
Leave a Comment