Nintendo broke with tradition today and released a Corporate Management Policy Briefing. Its biggest announcement was possibly the next Direct Mini: Partner Showcase, but there are plenty of other intriguing tidbits to explore in the presentation materials.
For instance, Nintendo reflects on its past, stating that "the time and energy that fans invest in playing [its] games, and the memories they make playing with loved ones, is what breathes life into [its] characters. That's what Nintendo is all about, and it's a precious asset for [the company]."
Nintendo goes on to say how, starting in 2015, a push was made to expand character IP outside of video games. Specifically, merchandise, mobile development, theme parks, and "visual content" are mentioned.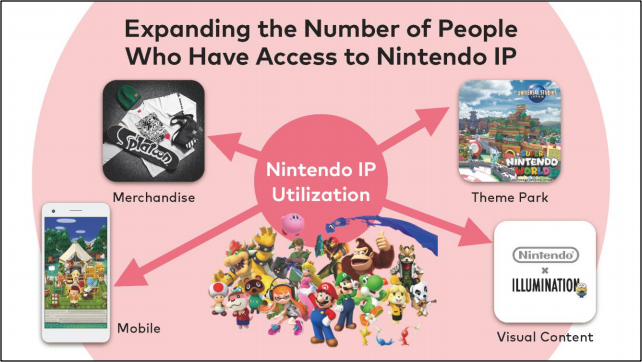 A focus on uniqueness as well as touch & feel are mentioned for merchandise partnerships, while Nintendo's seven mobile game apps have surpassed a combined 650 million unique downloads.
It's also re-affirmed that the CG-animated Mario movie by Illumination is still on track for 2022, with production moving ahead smoothly. Perhaps more exciting, however, is that more visual content is planned, stating that the initiative may not be limited to film.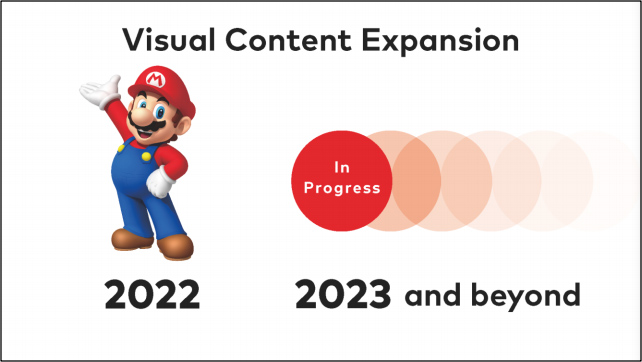 The effect of COVID-19's stay-at-home orders on digital sales is also spotlighted, revealing a massive spike, ultimately making up 50% of all game purchases by the end of June. It is mentioned that the percentage has since stabilized to pre-pandemic levels, however, and Nintendo clarifies that "converting [its] business to be 100% digital is not [its] ultimate goal."
Nintendo also discusses its plans for the future, clarifying a desire to make sure the brand can be enjoyed by consumers across multiple generations.
To that end, Nintendo plans to continue creating unique integrated hardware-software products (aka consoles), hoping that continued advancement of the Nintendo Account program leads to positive long-term relationships with consumers. The image below also confirms plans to make a "next gaming system", though Nintendo clarified at the presentation that the Switch is mid-way through its life-cycle.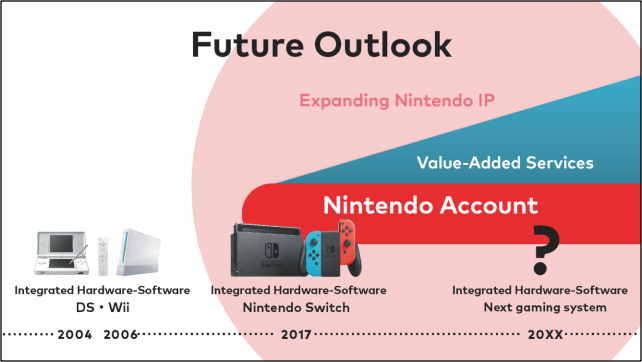 Nintendo wraps up the presentation by stating its ultimate mission to "bring smilees to as many people as possible, all over the world" and announcing the aforementioned Direct Mini: Partner Showcase.
Seems like some exciting years are ahead for Nintendo fans!

Leave a Comment