You know what the shoot-em-up genre needs more of? Puppies and other assorted baby animals in spaceships blasting giant robotic sea creatures. I'm right — you know I'm right. Thankfully, the team over at Tic Toc Games shares the same sentiment. Revealed during the Indie World Showcase back in March, B.ARK — which stands for Bio-Interstellar Ark — is a four-player, family-friendly, couch co-op shoot-em-up which fills that exact void in the genre!
The "cute-em-up," is made by some of the talent behind Shovel Knight, Contra 4, and A Boy and His Blob, and features four adorable playable characters: Barker the Dog, Felicity the Cat, Lucio the Bear, and Marv the Rabbit — in a desperate mission to stop the evil Dark Tide! Each of these cutesy critters is equipped with unique 'Super Duper' abilities to help them fight their fishy enemies:
Barker can temporarily turn enemies into allies

Felicity can double her bullets for extra damage
Marv can slow down all of the enemies on-screen
Lucio can create barriers to protect the whole team of fluffy freedom fighters at once!
While playing with up to four friends locally, pilots can combine their strength to activate Super Fusion Combos and make space sushi of the Dark Tide's toughest baddies! The Dark Tide is relentless, however, and will employ all manner of maniacal, mechanical beasties! From Guppies to Hammerheads, and even Crush-taceans piloting powerful mechs! They won't show mercy in their quest for revenge, so when pilots get too banged up, they can attach themselves to their fellow pilot's ships in Side-Car Mode to keep the pressure up on their aquatic adversaries.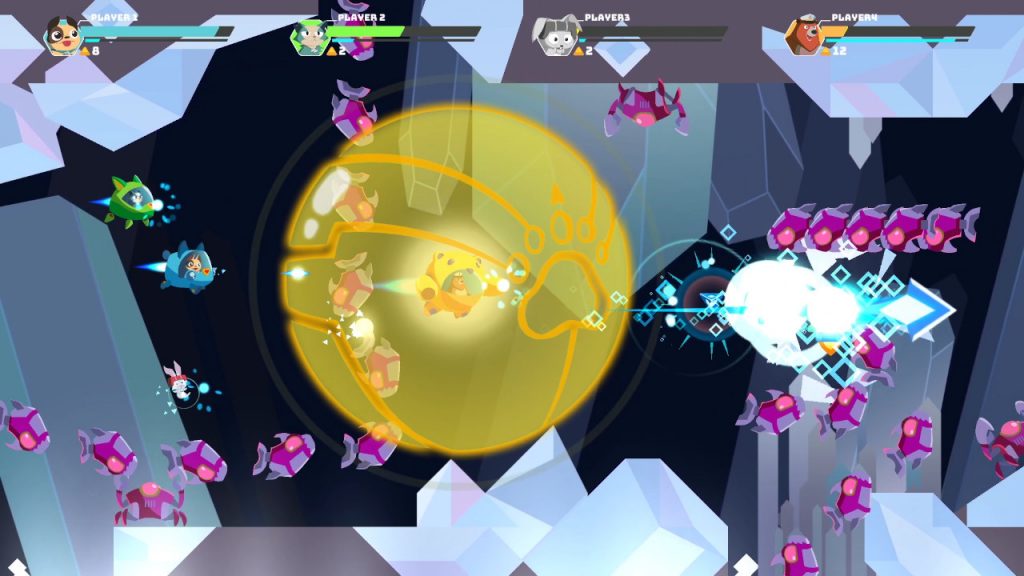 In their mission to protect earth, the pet-like Pilots of B.ARK will meet a varied cast of colorful characters, visit exotic alien worlds, and collect coins to upgrade their ships, all while trying to one-up each other's high score!
B.ARK will launch as a timed Nintendo Switch exclusive later this year in North America, Europe, Great Britain, and Russia for a PAWltry $9.99! Just make sure you have some treatos at the ready, because these good floofs will definitely deserve a reward for their heroics!
Leave a Comment