The Switch has reached another milestone in its home country, as Famitsu is now reporting that total sales of the console in Japan have exceeded 15 million. It was able to reach this point in only three and a half years as of September 6th, with Famitsu providing a graph to chart the console's domestic sales.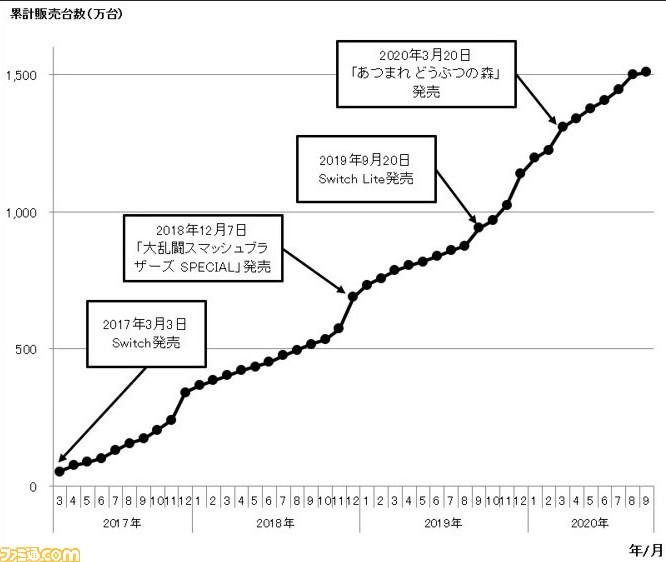 From left to right the highlighted data points are the Switch's launch, the release of Super Smash Bros. Ultimate, the launch of the Switch Lite, and the release of Animal Crossing: New Horizons. Each of these (as well as other key points that can be inferred, such as holiday shopping seasons and key launches like Super Mario Odyssey and Pokémon Sword and Shield) make noticeable rises in Switch sales. In fact, the closest thing this graph has to a flattening can be chalked up to stock shortages as a result of COVID-19.
Speaking of domestic sales milestones though, the top five selling games in Japan were shared as of August 30th. While the present titles may not be surprising, what's most notable is just how wide a margin Animal Crossing: New Horizons has created. Compared to the next best selling title (Smash) it's ahead by nearly two million units.
1. Animal Crossing: New Horizons – 5,628,462
2. Super Smash Bros. Ultimate – 3,809,943
3. Pokémon Sword and Shield – 3,717,997
4. Splatoon 2 – 3,544,763
5. Mario Kart 8 Deluxe – 3,131,858
Again, these numbers are only from sales within Japan. While the majority of the list hovers between 3 and 4 million, it's likely that Animal Crossing's Japanese sales will continue to widen its lead even with further DLC planned for Smash and Pokémon.
What's most clear from this data, as well as the recent announcements of releases like Super Mario 3D All-Stars and Hyrule Warriors: Age of Calamity, is that the Switch will continue to sell and likely sell incredibly well.

Leave a Comment