Last year we saw the release of Super Kirby Clash, a free to play and expanded subgame with mobile game sensibilities, for the Nintendo Switch. I dove deep into this one, learning the ins and outs of each of its roles to take on boss after boss after boss. 
なんと!本日は『スーパーカービィハンターズ』の1周年記念日!!
感謝の気持ちをこめて、デザインディレクターの元気いっぱいな、描き下ろしイラストを大公開~!
豪華なアイテムがもらえる、特別なあいことばも発表しちゃいますよ!これからもたくさん遊んでくださいねっ♪https://t.co/UvGwm2RruU pic.twitter.com/etvvh5aSYw

— 星のカービィ (@Kirby_JP) September 5, 2020
In honor of its 1st Anniversary milestone, new artwork has been released by the game's Design Director. Most prominently featured are Sword Hero Kirby and (Parallel) Nightmare, who made their first appearance here after a long absence from the Kirby series. Along for the festivities are Bandanna Waddle Dee and Shopkeeper Magolor, ever helpful and hustling respectively.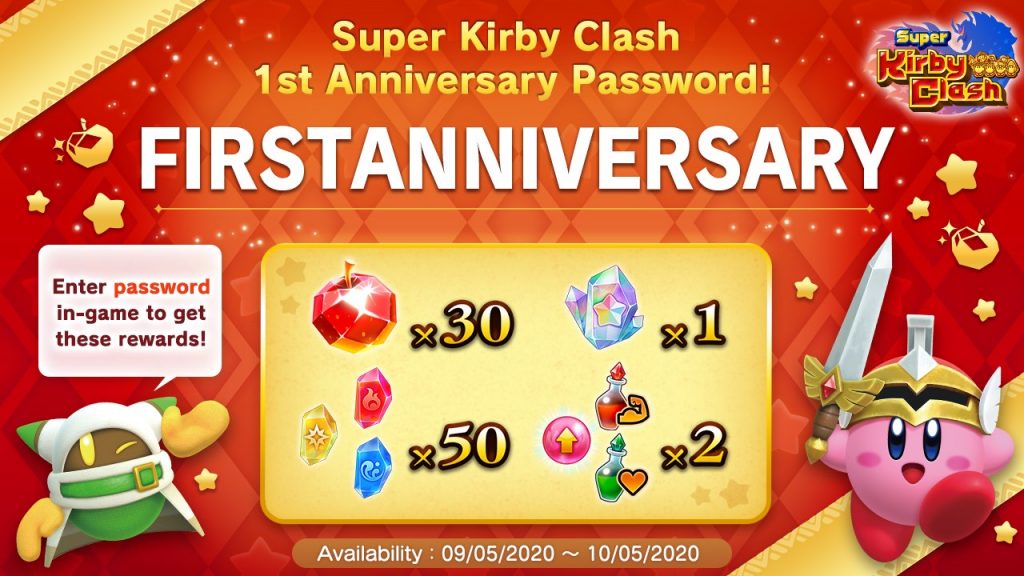 Also part of the game's birthday celebration is a new password. Entering "FIRSTANNIVERSARY" will give you 30 Gen Apples as well as various materials and items. If you haven't opened the game in a while, pay it some mind on its special day and get yourself a little something for your effort. If you've never given it a go, you can download it from the eShop and check out our Super Kirby Clash role guide too!
Leave a Comment