Blasphemous, the visually impressive Metroidvania from The Game Kitchen, is about to get  bigger thanks to a free DLC update. Titled The Stir of Dawn, it adds on features both big and small, showcased in the below trailer. 

Per its press release: 
Blasphemous: Stir of Dawn key features:
Experience a new level of torment:

Those who have completed the main campaign can take on a higher level of difficulty as part of the 'New Game+' New Torment mode, which also includes the brand new story content that all players are receiving

Greater variety of gameplay options:

Three different playstyles are available in New Torment through the all-new Penitence system, which offers tantalising rewards for those that can handle the handicaps that come with them

Overcome new challenging bosses:

Go forth on a journey to defeat the five Amanecidas, encountering new characters including Jibrael and Nacimiento along the way

Be more brutal:

The counterattack mechanic has been improved and seven new executions have been added, keeping combat impactful

A more balanced Blasphemous:

Enemies have been adjusted, new animations added, and players can now even pet the dog

Get around Cvstodia in new ways:

Travel is made easier for The Penitent One with further additions like a new map system and more warp points.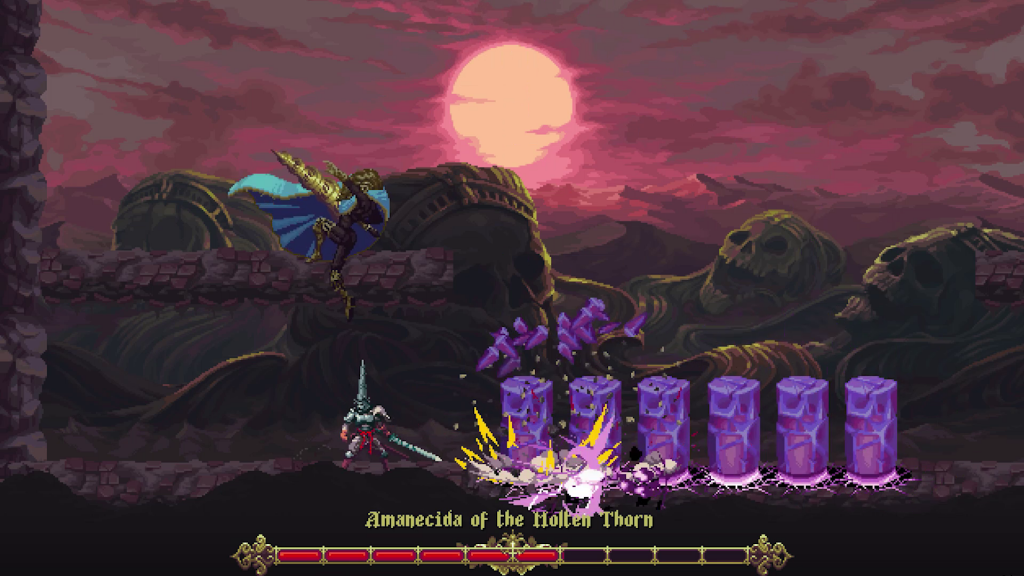 One of the more interesting additions, also spotted in the trailer, are three Penitences to choose from. Effectively classes, these provide modifiers both positive and negative (and some outright game-changing) in order to offer different experiences to players. These include the following: 
Unwavering Faith

is aimed at players who want to use magic, featuring regenerating fervour to execute special moves – which is lost when hit – and sword damage being slashed in half;

Bleeding Heart

introduces a more classic gaming experience, featuring a set of stocks instead of a lifebar (to which everything deals one stock of damage), with enemies also respawning when entering rooms;

True Guilt

is a Penitence that sees players lose maximum fervour when they die, at which point Tears of Atonement – the in-game 'currency' – are placed in a fragment. If another death is encountered before the fragment is retrieved, those Tears are lost for good. On top of all this flasks cannot be used to recover; instead they grant The Penitent One fervour.

You can download the Stir of Dawn update today, completely free. Blasphemous is available now on Nintendo Switch, PC, PlayStation, and Xbox One. 
Leave a Comment