While we're stuck in the long wait for No More Heroes 3 you might be itching to play the original games. While you could dig out your Wii or Wii U, it's looking like the Switch itself might be getting the original game, if a Taiwanese rating is anything to go by.
As Gematsu reports, the Taiwan Digital Game Rating Committee has a listing for No More Heroes, with promo art from the original release, ruling out it being a rating for 3.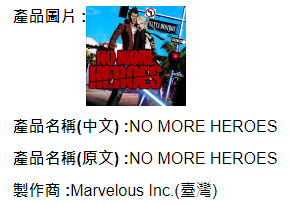 Back in July 2019 director Suda51 expressed an interest in porting the game to modern systems, specifically PlayStation 4, so it looks like that effort has paid off.
This wouldn't be the first time Travis Touchdown's debut as been re-released, as the (formerly) Wii exclusive eventually came to PS3 as No More Heroes: Heroes' Paradise. There's no indication of if a theoretical No More Heroes Switch port would be based on the original or Heroes' Paradise, nor if there's any hope for the sequel No More Heroes 2: Desperate Struggle.
Speaking personally, the first game has managed to remain my favorite in the series despite its shortcomings. With No More Heroes 3 still set for a 2020 release, be on the lookout for more news on the series and this potential port sometime soon.

Leave a Comment