Last week was the 20th anniversary of Final Fantasy IX; and now a week later, we're treated to the second interview in the "Final Fantasy IX 20th anniversary special interview series." Published on Final Fantasy Portal Site, Part 2's interview is with artist and character designer Toshiyuki Itahana. If you've missed Part 1, you can read our previous coverage.
The entire interview has been published on the Final Fantasy Portal Site. We've selected a few notable questions and answers from the interview and shared them below: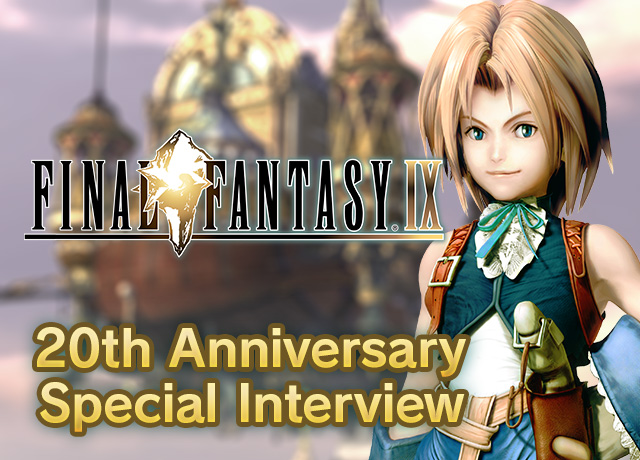 Each main character of FFIX carries their own background story into the battles they face. Do you have a favorite? Please tell us why as well.

Itahana: I'm quite fond of Vivi, but I have to say that Zidane might be my favorite. Strong yet with a kind compassion for others – he's a true hero in my mind. The fact that he's a joker who doesn't conduct himself like such a hero makes him all that much more wonderful of a character.

We think that Mr. Uematsu's music played a large part in expressing FFIX's unique characters and world. Are there any songs from the soundtrack that are particularly memorable to you?

Itahana: There are a lot of well-known songs from FFIX so I'd like to talk about one that doesn't get much attention. I love "Quina's Theme." The banging rhythm of the drums when the song starts – that strong, steady sound gives me a lot of courage. When I'm super overloaded or really feeling the pressure of an approaching deadline, in the middle of the night I'll often listen to "Quina's Theme" while working.

For our last question, we'd love for you to share some of your feelings about working on FFIX, and a message for the many fans who still love it.

Itahana: Now that its 20th anniversary is here, I've been hearing a lot about how FFIX is always highly praised in polls about FF games both in Japan and the West. I feel that it is a game with a timeless story, a strongly established theme and lovable, truly unique characters. On the 20th anniversary of FFIX it would make me very happy if people who have yet to experience this game gave it a shot, or those who played it 20 years ago tried it again. I hope each player finds a character that resonates with them.

Thankfully, it's now easier than ever to explore the world of Final Fantasy IX. The game has been ported to various consoles over the years, including the Nintendo Switch (available via Nintendo eShop). If you need more reasons to start this adventure, we've previously reported on Final Fantasy IX's Nintendo Switch release and how it has fared since its debut.
Now we're one step closer to the end of this review series. Next week wait we'll be treated to Part 3, where Final Fantasy Portal Site interviews Mr. Hiroyuki Ito, director and battle system designer of Final Fantasy IX.
Leave a Comment