The Colors! franchise has been a staple on Nintendo's touch screen handheld consoles for 13 years, and it's now joining the Nintendo Switch family. Jens Andersson, creator and programmer of Colors!, is bringing the painting game and app's newest entry into Switch libraries thanks to Kickstarter.
Ending on Friday, June 12th, at 5:54 a.m. PT | 8:54 a.m. ET, the main funding goal for the game, Colors Live, has already been reached. The only question that remains is: will all stretch goals be met? While anything can happen between now, the publishing of this article, and Friday morning, it's likely that Colors Live will reach that final goal.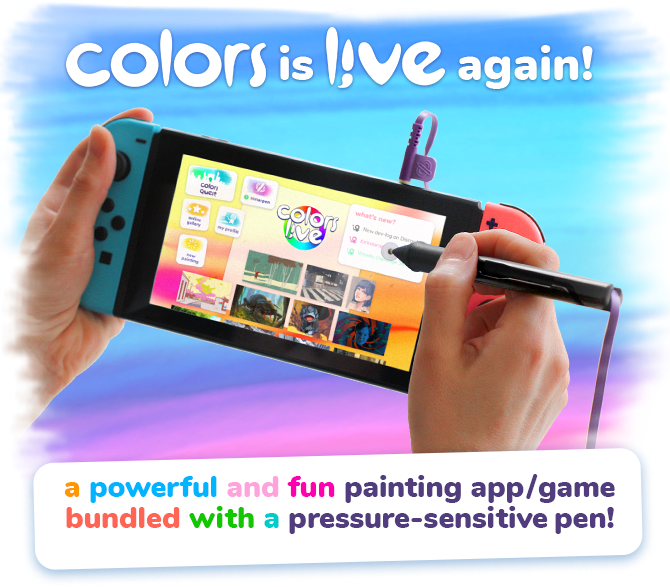 The big and welcomed surprise from this campaign is a stylus. Nintendo hasn't made styli a standard, "included-with" item for any Nintendo Switch bundle. The closest we saw to this was a pre-order bonus stylus decked out in Super Mario Maker 2 branding and a plain black stylus included in the physical release of Dr. Kawashima's Brain Training for Nintendo Switch. Neither of these items were officially released in North America. 
So, not only is Colors Live bringing a stylus to the Nintendo Switch, but it is pressure sensitive too! The perk of this does have a slight drawback, making the stylus come with a wire that needs to be plugged into the Nintendo Switch's headphone port. As for why this method, Andersson partnered up with GreenBulb, the makers behind SonarPen. Initially designed as an alternative to the Apple Pencil, SonarPen works with iOS and Android devices. Now, with Colors Live coming to the Switch, the pen can add Nintendo's system to its list of compatible devices. It also means that if you back the Kickstarter, you can use your Colors! branded SonarPen on iOS and/or Android devices. (Note: If you already own a SonarPen, it may not be compatible with Colors Live.)

Colors Live and the Colors SonarPen will be available to purchase later on the Colors Live site, but if you want to be apart of the "Day One" Club and have the SonarPen in time for the game's release, backing the Kickstarter is the way to go. 
Colors Live is expecting to be released in the Nintendo eShop this summer for North America, Europe, and Australia — whereas Japan is getting a fall release.
Leave a Comment