GungHo Online's Ninjala will soon escape its online beta sessions and launch into alpha status on June 24th. While we're just weeks away from its launch, it's interesting to note that the game's changed significantly over the last three years.
Debuting at E3 2017, it was hard to miss GungHo Online's booth when walking through the LA Convention Center's West Exhibit Hall. The company's swag item was an inflatable cartoonish bat — coupled with the show's first year of allowing public attendees — it was impossible to not take notice of the colorful advertisement wherever you went. Somehow during those three news-filled days, I secured a session of playing the game's demo. Despite this being three years ago, I do remember my initial thoughts after walking away from the booth. Ultimately, the game felt like a Splatoon clone, swapping squid-humanoids for bubble gum. There was potential, but GungHo would be competing against a franchise that thrived on the Wii U and was about to cause a squid-kid invasion on the Nintendo Switch. Changes would have to be made.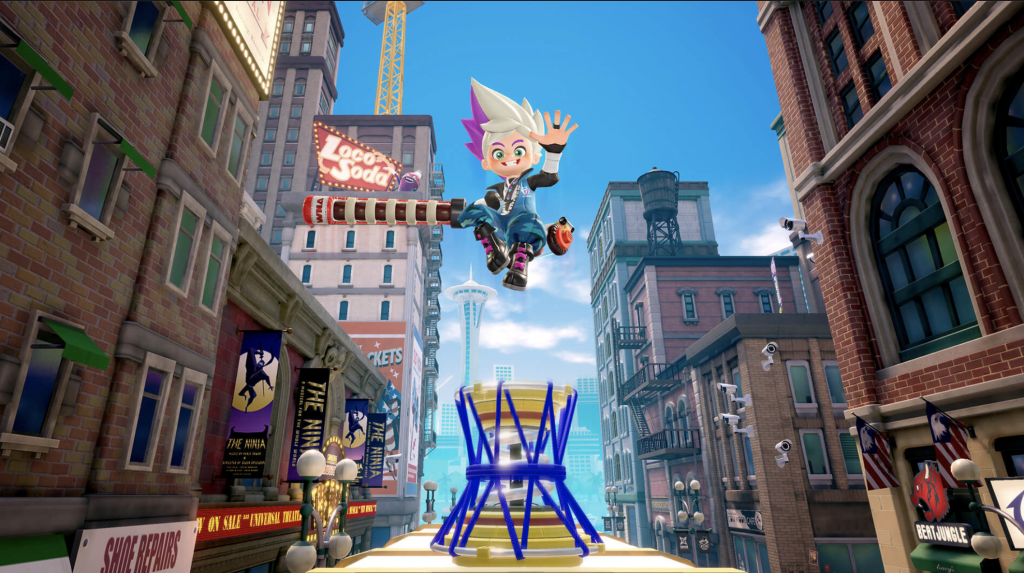 Recently, Nintendo Everything was able to interview Kazuki Morishita, the president and CEO of GungHo Online, and he even acknowledged Ninjala's change in an ever-changing gaming scene:
"GungHo has a track record in F2P games such as Puzzle & Dragons. Ninjala was originally envisioned to be a game for purchase, but after observing the changes in the game market over the last few years, we wanted a broader range of players from adults to children to be able to enjoy the game, so we switched to F2P."
Going back to 2017, the competitive, multiplayer, action-packed section of online gaming has expanded and branched off into new sub-genres. Battle Royale matchups soon began flooding the market thanks to PUBG and Fortnite, and popular fighting game staple Super Smash Bros. and Mortal Kombat finally debuted on the current generation of consoles. Established franchises could afford the paid and paid DLC releases… but what about a new IP made by a company that didn't have their own gaming console? It was time to do what Fortnite and other popular games did: go to a free-to-play format with premium perks purchased with money.
To be honest, I haven't successfully played Ninjala since 2017. The game's first beta was riffed with connection errors and I was unable to make time for the second open beta. Despite all this, I plan on busting open a pack of Ninja-Gum and kick some digital butt later this month to see what Ninjala of 2020 is like.
Is it more like ARMS meets Splatoon? Does the game have a solid game lore for it to earn its own identity? Will I survive connection errors? It's all a mystery to me, but the changes I've seen so far are positive.
Leave a Comment