Reported by Japanese Nintendo, the Joy-Con family is getting downsized. According to Japan's Nintendo site, the accessories page lists that the Gray, Red, and Neon Yellow Joy-Con have ended production ("生産終了"). 
This might be due to a variety of factors — transferring production to new Joy-Con designs, possibly the demand of Nintendo Switch units, the status of current inventory levels, production being affected by COVID-19, etc. Nintendo has yet to make a formal statement about the change, and the North American site doesn't list any information concerning production status.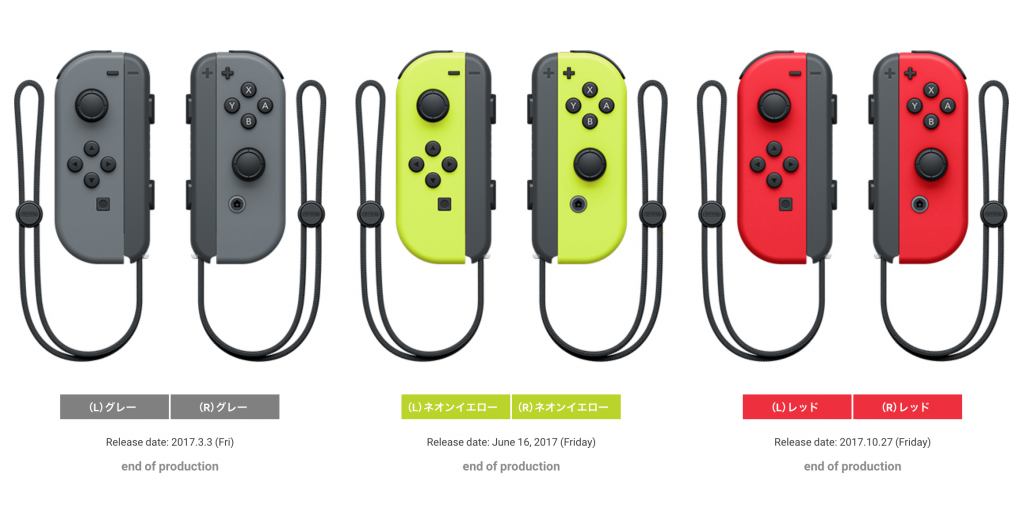 These Joy-Con are still available for sale and are being offered with Japan's create your own customized Switch bundle. As for North America, Gray and Neon-Yellow Joy-Con are for sale in the US in L/R pairs. The Red set of Joy-Con is a tad trickier, as these were only released in special Switch bundles (Super Mario Odyssey, and a holiday Mario bundle). Luckily, they're available to import thanks to sites like Play-Asia. And if you order from Play-Asia, you can save 5% when using the code NINWIRE at checkout!
If you wanted to collect the Joy-Con rainbow, you might want to start planning on completing your collection and/or keeping an eye on the accessories' retail listings and their status. 
Leave a Comment