To help celebrate the 10th anniversary of Hatsune Miku games, Sega recently announced a t-shirt design contest where entrants were encouraged to create Project DIVA-inspired designs. The grand prize, of course, was that the winners would have their designs featured in the upcoming Nintendo Switch game, Hatsune Miku: Project DIVA Mega Mix, which comes out later this year.
While the contest period ended about a month ago, winners were meant to be chosen and contacted around January 13th. And finally, yesterday afternoon, Sega announced the winners publicly on their official Twitter account alongside the five designs that won!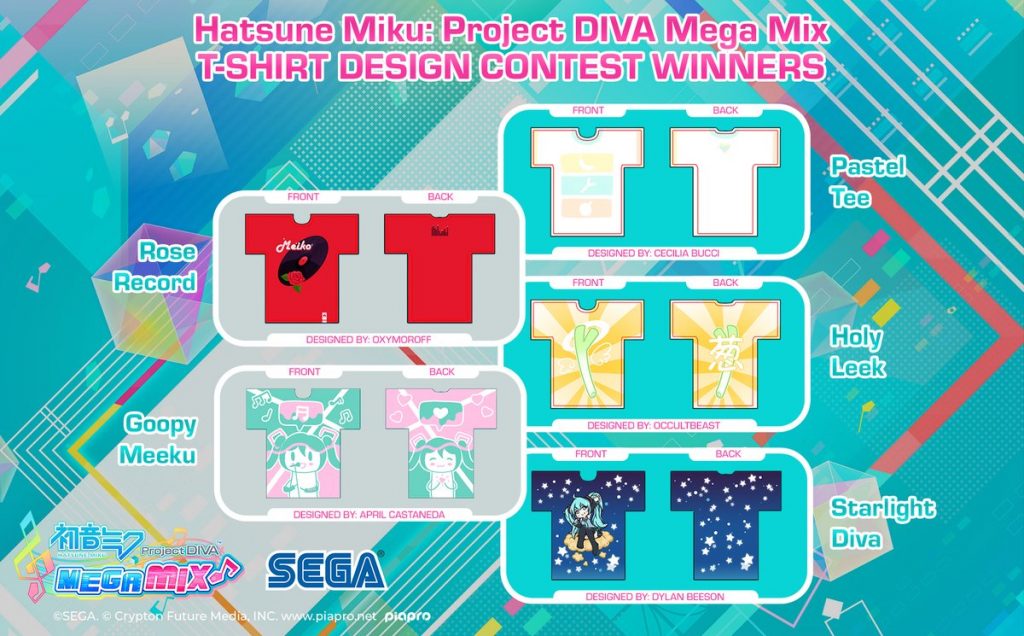 The winning designs are "Rose Record" designed by Oxymoroff; "Goopy Meeku" designed by April Castaneda; "Pastel Tee" designed by Cecilia Bucci; "Holy Leek" designed by Occultbeast; and "Starlight Diva" designed by Dylan Beeson. You can expect to see all five designs featured in the game when the game launches!
Congratulations to all the winners, and make sure to look for the western release of Hatsune Miku: Project DIVA Mega Mix later this year!
Leave a Comment