Nintendo has dropped yet another Earnings Release, right on schedule, this time covering the nine month period ending December 31, 2019.
Quite a few milestones have been surpassed this time around, with the biggest being the Nintendo Switch finally breaching the 50 million units sold mark, landing at 52.48 million units sold by the end of last year. Not only does this mean the console has surpassed the 49.10 million lifetime unit sales of the Super Nintendo, but it also may have caught up with the Xbox One, which is estimated to be sitting at around 50 million units sold.
It's also worth noting that 5.19 million of those Switch sales come from the Nintendo Switch Lite – impressive, for a console that had only been on the market for a little over three months!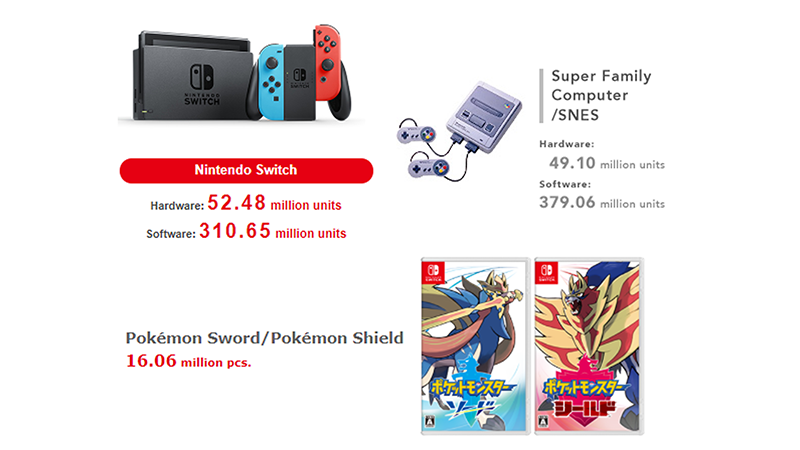 It's not just hardware that performed well, though. Pokémon Sword & Shield rocketed up to become the 5th best selling Nintendo Switch game, selling a whopping 16.06 million units in just over a month. This means it has surpassed Let's Go, Pikachu! and Let's Go, Eevee!'s impressive 11.76 million tidily, and they have less than one million sales to go before they beat the lifetime sales of Pokémon X & Y and Sun & Moon.
Luigi's Mansion 3 also got off to a solid start, with 5.37 million units of the ghostly adventure being sold worldwide.
Nintendo's next financial report is the big one covering the entire 2019 fiscal year, and it'll include the heavy hitter that is Animal Crossing: New Horizons. We'll just have to wait and see how much farther the Switch can go!
Leave a Comment